The W8, the next truck in Ditch Witch's Warlock series of vacuum excavators, has been unveiled.
Equipped with a 3,800-cubic-feet-per-minute blower and 21-inch Hg vacuum power, the W8 is slightly smaller than the previously released W12 hydrovac while maintaining performance.
A prototype model on a Peterbilt 548 chassis was displayed at Utility Expo 2023. The new model is expected to be available for order starting in March or April 2024.
Pricing has not been determined officially; however, Ditch Witch says there could be as much as a 25% to 30% difference between the W8 and W12. Check out the video above about the W8.
Chris Thompson, Ditch Witch vacuum excavator product manager, said the choice of which vacuum excavator to use depends on the size of the job.
"If you need to be out there in a big pipeline job and be running all day long for multiple days, use a W12," he said. "If you're in more of an urban setting, and you're able to get fresh water and dump easier, a W8 is probably a good fit for you."
Both trucks are PTO-driven vacuum excavators designed to increase productivity while potholing, slot trenching, or cleaning up spills and debris.
"We're not using any kind of a hydraulic pump or anything, we're just direct driving it," he said. "That allows you to get more efficiency, more power out of it, and we feel like that's less maintenance."
One of the key design changes on the overall Warlock series is the back of the truck. According to Thompson, Ditch Witch looked at a variety of configurations and decided the most efficient design was to have a tank that lifts and a door that opens.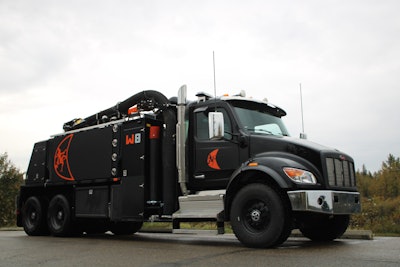 The W8 is powered by a 9-liter Cummins engine and has a maneuverable boom with a maximum reach of 26 feet and a 10-gallon-per-minute pump.
Operators have platforms to climb the back of the truck to access to the boom to remove any clogs. 'It's a very safe way to get up there and provide maintenance on that boom," Thompson said.
Compared to the W12, which offers 1,200 gallons of fresh water from dual 600-gallon tanks and a 12-cubic-yard debris tank, the W8 has an 8-cubic-yard debris tank and a 1,600-gallon water capacity.
"One of the things that we like about these trucks is that we have the side panels for the water," Thompson said. "They're plumbed so they fill front to back and side to side evenly, which helps with the truck's stability."
Weight is one of the key issues on vacuum excavator trucks. Ditch Witch put a scale that provides operators real-time weight, so they can shut it off when nearing capacity. A predetermined weight for automatic shutoff can be set to ensure the truck does not exceed local restrictions.
Thompson noted that all the pumps can be operated from the remote cabinet or the auxiliary hydraulics panel if needed.
Like the W12, the W8 includes the standard cyclonic filtration.
"Basically, your heavies drop out; the lights go through the filter, and then you have the exhaust and the silencer," Thompson said.