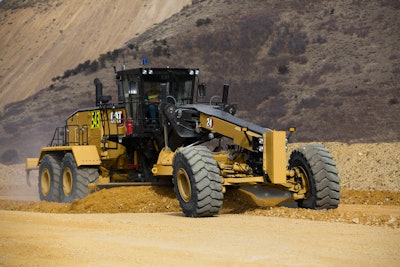 Caterpillar
Gone are the days of frequent inspections, wear strip replacements and circle shoe adjustments in the Cat 24 and 24M motor graders. The new graders come equipped with Cat's new High-Performance Circle (HPC), which has a service life of 16,000 hours.
When paired with Cat's long-life blade rail wear strips, the company says, the total cost of ownership for the drawbar circle moldboard and downtime can be reduced by up to 80 percent. The drawbar, drives and circle do not need to be adjusted during the life of the machine.
Cat proprietary heavy-duty planetary gearboxes with an integrated forged pinion shaft and gear replace the work drive gearbox, pinion gear system and their associated service wear items.
The sealed-for-life slip clutch module eliminates the need for adjustments and isolates the clutches from the rest of the drive. The slip clutch assemblies can be swapped out in under an hour compared to the drive rebuild that is needed on a standard circle. Borrowing a design from Cat's excavators, the brass circle wear strips and shim system is replaced with a sealed roller bearing for smooth rotation of the blade. It is fully integrated with standard machine auto lube, eliminating the need for daily greasing.
A new pinion gear shape with a larger shaft diameter allows drives to be assembled and removed vertically with no need for drive adjustments. Dowel locators simplify service and ensure optimal tooth contact and longer pinion life. The pinion cage design seals in grease, while the inspection cage allows technicians to monitor tooth wear.
At the prescribed 16,000-hour rebuild life, if the circle teeth have reached their wear limit, they can be rotated 180 degrees, doubling the service life of the component. Cat says the inspection and rotation can be completed in as little as four hours. If a full replacement is needed, the service will take eight hours.
The new HPC is retrofittable to all Cat 24 and 24M Motor Graders.
Eliminate a Pass
In addition to the new HPC, the new Cat 24 can be paired with a longer 28-foot moldboard option to bring haul roads back to spec in fewer passes.
Because the grader is powered by the new Cat C27 engine with up to 37% more torque, it can accommodate the blade's increased weight and width without slowing or bogging down the machine.
Cat says the longer moldboard reach places the windrow farther away from the rear tandems to increase traction while allowing the operator to use a more aggressive blade angle.
The 28-foot moldboard option is also retrofittable to existing Cat 24 Motor Graders. It can be connected to the machine with Cat extended life blade rail wear strips, available for both standard and high-performance circles, to achieve up to three times longer service life than standard rail wear strips.