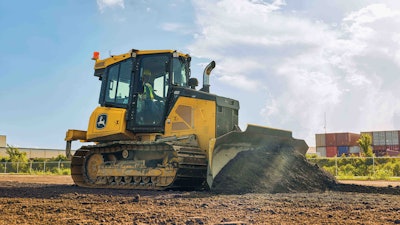 John Deere
Designed for customers looking to level up on the jobsite, John Deere introduced the new P-Tier models of its small dozers at ConExpo 2023.
To see more of what OEMs unveiled at ConExpo 2023 on our show page click here.
The new 450, 550 and 650 P-Tier dozers offer larger cabs, more technology and smoother operation. Enhancing operator performance and safety, the dozers feature a variety of strategic design choices to increase visibility, comfort and efficiency, the company says.
Creature comforts
Boasting a 14% larger cab than previous models, the P-Tier machines offer increased storage space and make it easier for operators to get in and out of the cab.
"Operators need to stay less fatigued because they're in these machines a long time," said Matt Goedert, solutions marketing manager for John Deere motor graders and dozers. "When the operator sits down in the seat, they'll notice it's an optional new heated and ventilated seat with leather surround."
Deere also added an automatic temperature-controlled HVAC system.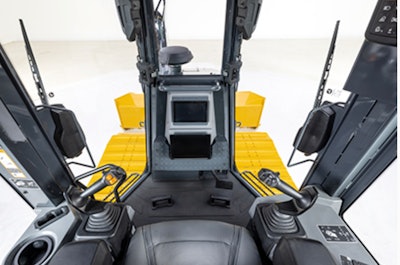 The cab has 14% more glass area for improved visibility. Without significantly changing the appearance of the dozers, operators will notice a considerable difference in forward visibility over the previous generation as the hood has been lowered and reprofiled.
"We've actually lowered the front of the hood 5 inches on the 650 P-Tier and 7 inches on our 450 and 550 P-Tier models," Goedert said, providing straight sightlines from the front of the machine.
He added that the redesigned hood gives operators clearer visibility to the blade corners. "This also improves the situational awareness around the jobsite and allows operators to focus on the task in front of them."
An optional LED light package and a rearview camera are displayed on a larger and brighter 8-inch touchscreen monitor.
In control
A new operator-presence system uses a built-in sensor to detect that the seat is occupied before the park brake is released to prevent unintentional movement.
The company also has taken into consideration that every operator is different with varying techniques and preferences. The hydraulic and transmission response settings can be set to fit any operator's preferences.
In addition, John Deere says, the Sealed Switch Module (SSM) reduces the number of wires and mechanical switches and provides keyless start.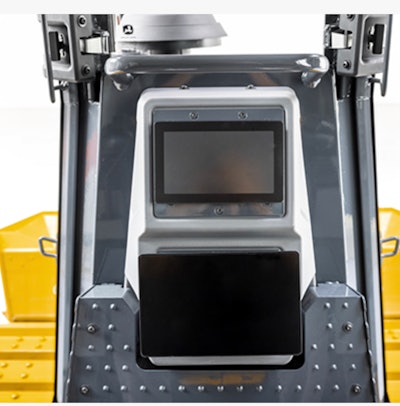 Via the SSM, buttons are all centralized to enable features such as automatic turbocharger cool-down, auto shutdown, auto idle, and eco mode.
Further, the touchscreen displays not only the rearview camera but also makes navigation and interaction with slope control and other function easier. It also displays the machine's configurable settings.
According to the company, standard eco mode automatically adjusts engine speed and powertrain settings based on load to reduce fuel usage by up to 20% compared to standard operating mode, without loss of performance.
In addition, an operator can set a maximum desired ground speed, and the power-management system automatically maintains peak engine speed and power efficiency without stalling or shifting.
Deere says counter-rotation enables on-the-go blade repositioning.
Lastly, the general control of the dozers has also been simplified. Goedert said the joystick controls from Deere's mid-sized dozers have been integrated into the small dozers for low-effort ergonomics. "This reduces operators' hand and arm movements. Instead of moving the joystick forward and reverse to change directions, it is integrated into a simple rocker switch on the left joystick," he said.
The proportional blade angle roller switch is also integrated into the stick controls.
Precision grading
Goedert said these dozers are technology-packed, offering smarter, more intuitive operations.
Base models with electrohydraulic (EH) controls arrive from the factory with EZ Grade, John Deere's entry-level grading solution.
Under the company's naming strategy and designations, all John Deere machines that are part of the P- or X-Tier solutions that have electrohydraulic controls will have at least EZ Grade factory-installed.
All models also are compatible with laser receivers, helping to control elevation and slope while utilizing a rotating laser.
"Our tech stack on our dozer lineup is upgradeable, from EZ Grade to slope control to 2D laser, all the way up to our 3D SmartGrade solutions," Goedert said.
Owners have the option of upgrading at the time of purchase or allowing the technology to grow with their business on an as-needed basis over time.
An additional 10-inch touch-screen display for navigating the grade control interface is added when the machine is outfitted with dual-laser receivers.
Maintenance matters
John Deere said there are reduced maintenance costs across the small dozer line with extended hydraulic oil change intervals to 4,000 hours. In addition, hydraulic hose and electrical harness routings have been optimized throughout to minimize rub and leak points.
Each of the machines offers ground-level filter access.
For the undercarriages, John Deere offers a variety of options to help balance component wear and get the most life out of them before performing maintenance.
The company says the options are:
Standard Heavy-Duty: Uses a sealed and lubricated track chain with hardened steel pins/bushings and polyurethane seals to keep lubrication in and abrasives out.
Extended Life: Uses proprietary SC-2 coated bushings designed to double the bushing life compared to standard bushings. The extended bushing life allows you to maximize the wear life of other undercarriage parts.
Maximum Life: Provides the same benefits as extended life with the use of SC-2 coated bushings, along with larger components with more wear material on the rollers (upper & lower), chain links, idlers, and seals.
Goedert noted that the P-Tier small dozers have the same 4.5-liter engine in them as the previous series.
"That's a proven, reliable engine," he said.
On the 450 P-Tier, the company has entirely removed the DEF system.
"We wanted to give customers a less complex, simpler after-treatment system while reducing maintenance," Goedert said. "Now customers don't have to worry about adding DEF to the machine throughout the work week on that 450 P-Tier model."
The after-treatment system was simplified with the removal of the DEF system and related components, eliminating the future need to add additional fluid to the 450 P-Tier model.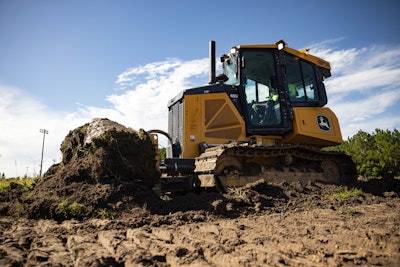 Quick Specs
450 P-Tier
Engine: PowerTech EWX 4045
Net Power: 71 hp
Operating Weight: 17,816-19,035 lbs.
Track on ground: 96 in.
Transmission: Hydrostatic
Blade width: 8 feet 1 in.
Blade dig depth: 20.8 in.
550 P-Tier
Engine: PowerTech PWS 4045
Net Power: 92 hp
Transmission: Hydrostatic
Operating weight: 18,853–20,115 lb.
Track on ground: 8 ft.
Blade width: 8 feet 9 in.
Blade dig depth: 22.8 in.
650 P-Tier
Engine: PowerTech PWS 4045
Net power: 104 hp
Transmission: Hydrostatic
Operating weight: 21,165–22,484 lb.
Track on ground: 103 in.
Blade width 9 feet 7 in. or 128 in.
Blade dig depth: 21.2 in.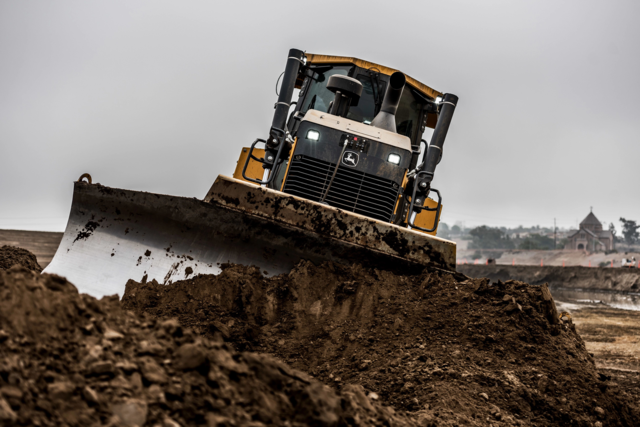 John Deere