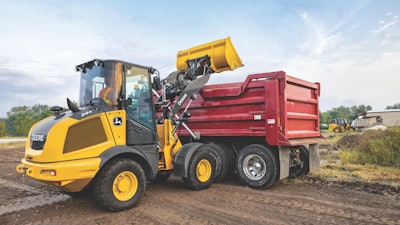 John Deere
John Deere is expanding its P-Tier machine lineup with the introduction of all-new 244, 324, and 344 compact wheel loader models.
This series of loaders will carry over all L-Series features and will introduce new qualities including standard ride control in base models and optional factory-installed features, including an auto-reversing fan option and attachment assist controls.
The naming system is based on three-tier levels for equipment: G, P, and X. The P-tier for wheel loaders represents the same advanced features as those on the company's L-series models. G represents economy models, and X represents the company's most advanced features and hybrid diesel-electric technology. Those letters replace the letter behind the model number.
"As we continue to make the shift from past generation machines to our current generation of P-Tier models, we aim to keep the same features our customers know and trust on the L-Series models, with the added benefits of new productivity enhancements only available on the P-Tier machines," said Luke Gribble, solutions marketing manager, John Deere.
Previously offered as an optional upgrade on L-Series models, ride control is now standard on all P-Tier compact wheel loaders. This feature is applied with a flip of a switch in the cab and can be set to automatically engage and disengage at a predetermined speed.
Deere says this is ideal for customers moving materials over long distances, or on hard surfaces. The ride control feature cushions boom movements during transport, acting like a shock absorber to help minimize material spillage.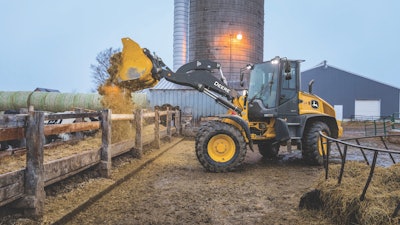 In addition, P-Tier compact wheel loaders continue to feature Deere's Articulation Plus steering system, which combines 30 degrees of standard articulation with an additional 10 degrees of rear-wheel steering. The system enables rear-wheel steering to increase full-turn tipping load and improve maneuverability.
When diving deep into a pile, the P-Tier compact loaders include manual low-speed 100% differential lock to deliver the ground-gripping tractive effort to help heap the bucket.
The joystick controls boom, bucket, forward, neutral, reverse, and differential lock. There is an adjustable height monitor to let operators keep watch on machine functions.
John Deere says design changes to the loader arm and coupler have improved the lifting path to near parallel.
This assists in keeping the load more level from ground to truck-bed height and helps operators focus on the task instead of making manual adjustments.
In addition, all three models can be equipped with an ISO coupler to quickly and easily go from bucket to forks for maximum lift capacity.
The P-Tier loaders have the reach to dump to the center of tandem-axle trucks for quick loading cycles. Each also includes an optional high-lift configuration making them adept at repetitive dumping and stacking applications.
Other options include the John Deere quick-coupler that provides the use of a wide array of skid-steer-compatible attachments. High-flow electrohydraulic-controlled auxiliary hydraulics are also available.
An optional throttle lock and creep control let operators set a slow ground speed while maintaining full engine power to an attachment.
An enhanced pause and resume function means that reactivating the feature after a change in direction or switch to neutral is seamless as well. These functions work well with snow blowers, cold planers, and material scrapers.
An additional feature now offered on P-Tier compact wheel loaders is an optional auto-reversing fan, which is an easy-to-use solution for customers operating on sites with an abundance of debris or dust.
Deere says this solution is ideal for applications in agriculture, aggregates, and site development.
The fan can be turned on and off from the console in the cab. The fan's time intervals can be controlled by holding down the switch, making for an automated convenience during operation, keeping the operator focused on the job at hand.
John Deere says the redesigned engine compartment and cooling package improves airflow and reduces the amount of debris entering the system compared to previous models.
Also, access to all daily service checkpoints and cooler cores is from ground level.
Quick Specs
244 P-Tier
Net power: 71 hp at 2,400 rpm
Operating weight: 12,258 lb.
Bucket capacity: 1.0–1.4 cu. yd
Top speed: 23 mph
324 P-Tier
Net power: 71 hp at 2,400 rpm
Operating weight: 14,110 lbs.
Bucket capacity: 1.0–2.1 cu. yd.
Top speed: 23 mph
344 P-Tier
Net power: 103 hp at 2,000 rpm
Operating weight: 19,533 lb.
Bucket capacity: 2.0–2.6 cu. yd.
Top speed: 25 mph