Touting improved torque and fuel consumption, John Deere unveiled its concept version of an 850 X-Tier E-Drive dozer at ConExpo-Con/Agg 2023.
You can see more of what OEMs had at ConExpo 2023 on our show page by clicking here.
The 850 X-tier offers multiple operating modes to tailor performance and fuel consumption to specific jobsite needs, like its predecessor the 850L.
Now offering a mix of battery-powered and hybrid-electric solutions, John Deere's E-Drive machines feature an electrified drivetrain with a diesel engine as the primary power source.
"This machine is a dual-path electric-drive machine, meaning that it starts with our 9-liter diesel engine. We've got a generator and inverters that go to two electric-drive motors connected to our final drives that make the machine move," said Kat Roberts, product manager dozers & crawler loaders, John Deere Construction & Forestry Division.
She said E-Drive machines enable better fuel economy, improved powertrain component life and stronger pushing power than traditional models.
"This is a concept machine, but we will be planning on having communication go out in the next six to 12 months on when you can get this machine," Roberts said.

X-cellent
For their size and uses, the 850-size dozers are popular among John Deere customers.
"Because of its size, it can do anything from bulk pushing material as well as fine grading," Roberts said. "It's kind of in that sweet spot of doing both of those tasks."
The 850 is used in many earthmoving applications, including site development and roadbuilding. While no specifics were offered, John Deere also suggested that an 850 P-Tier dozer is on the horizon.
According to John Deere, the 850 X-Tier E-Drive dozer is set to be available with options including brush protection, winch, three- or five-shank rippers, retrieval hitch, rigid drawbar and waste-handler configuration. In addition, blade configurations will include Power, Angle Tilt blade, outside dozer, and mechanical angle blade.
Roberts said the 850 X-Tier is powered by a 9-liter diesel engine providing 225 horsepower, like its predecessor the 850L.
"Something unique for us in this size class machine is the dual-path electric motors, meaning there are two electric-drive motors," she said. The less complex drivetrain powers each track independently to optimize efficiency without sacrificing maneuverability and control.
"It gives us the ability to mimic the benefits that we have from the hydrostatic transmission," Robert said. Like the hydrostatic transmission, the E-Drive allows for on-the-go steering, infinite speed control, and power management.
To her, though, the ultimate benefit goes directly to the customers and operators. "Performance," Roberts said, summing it up in one word.
"Our customers talk to us about the need to push material and push dirt, and this product does that," she said. "Even more, we're hearing from a lot of our customers about sustainability and their needs for fuel-consumption reduction. This machine provides our customers with a choice when they're looking at this issue as well."
Also, the electric components offer a further benefit in terms of the total cost of ownership.
"When you think about this size of this machine and bigger, customers are talking about rebuilds and overall total cost of ownership as being important factors into their buying decision," Roberts said. "Because of our electric drive components, we can provide our customers with an even stronger TCO story than we ever have before."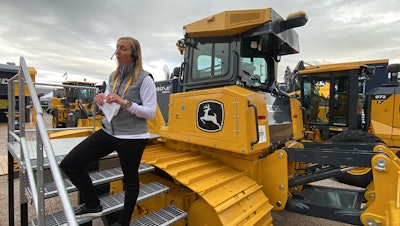 On grade
Roberts said the 850 X-Tier dozer has electrohydraulic controls and includes EZGrade, John Deere's basic grade management tool. Options are available for slope control and to upgrade to the fully integrated 3D SmartGrade.
"You can get that at the time of purchase, or it can grow with you as your technology needs change over time," she said. "We're planning on having that be our strategy moving forward across our dozer portfolio. No matter if you're on a 550 dozer or an 850 P- or X-Tier dozer, that experience will be similar across the way."
She noted that going forward, all John Deere machines that are part of the P- or X-Tier solutions that have electrohydraulic controls will have at least EZGrade factory-installed.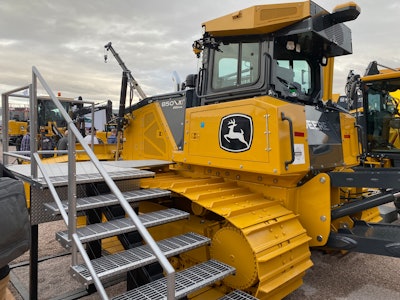 Looking good
The cab of the 850 X-Tier is nearly identical to the roomy 850L cab that was upgraded by 15% compared to the 850K. The boldest change inside the cab is the upgraded display strategy and surround-view camera system.
"A display strategy might not sound all that exciting but when we think about one of the main items that our customers talk about and the challenges that they face, it's a skilled-labor shortage and having people to work on the job," Roberts said. "The more we can do to help customers and operators feel more comfortable, get up to speed more quickly, and be on the job safely, the better off our customers are."
She said the cab and operation layout is designed to be comfortable for long days, and the controls are intuitive. "The more we can do to make those operators feel comfortable and more confident and more productive earlier on, the better."
The dozer has more screens than any other dozer on the market, she said. An 8-inch touchscreen provides the primary display with access to vital machine information and settings. An 8-inch advanced-vision display integrates the rearview and surround-view camera system. Lastly, there is a 12-inch touchscreen SmartGrade display to show grade control information and the jobsite model.
"That gives us the ability to give our operators what they need, where they need it, and when they need it," Roberts said.
The surround-view camera system gives the operator visibility around the entire machine. "They can keep their eyes on the task ahead, knowing that they've got the opportunity to see what they need around the machine just a glance away in the monitor," she said.
Overall, the technology on the dozer will bring "a really good total cost of ownership story for our customers," Roberts said.
Quick Specs
Power: 225 net hp
Transmission: E-Drive
Operating weight: 47,578-51,365 lbs.
Track on the ground: 130 in.
Blade width range: 129-194 in.