Cummins' lightweight 11.8 liter X12 engine is now available for order on Freightliner 114SD chassis.
Vice President of Cummins On-Highway Engine Business Brett Merritt says he's excited about the impact the X12 – Cummins' lightest Class 8 truck engine – can have in weight-sensitive vocational applications.
At 2,050 pounds, the X12 has the highest power-to-weight ratio of any engine in its class, enabling greater payload while improving productivity and uptime. The engine is capable of up to 500 horsepower and 1700 pounds-feet of torque, and is optimized for the Freightliner 114SD chassis for vocational applications like concrete mixers and dump trucks.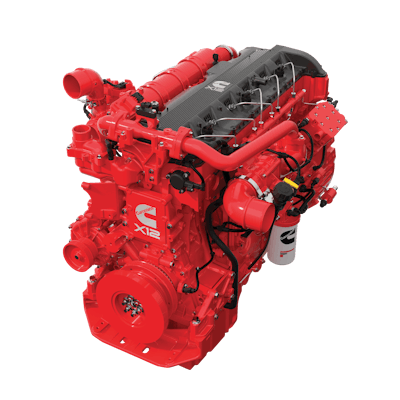 "We are dedicated to providing vocational customers with a wide range of powertrain options to meet the specific needs of their businesses," says Kelly Gedert, Director of Product Marketing for Freightliner Trucks and Detroit Components. "By adding the Cummins X12 to our engine portfolio, we give the already versatile 114SD yet another option, showing our commitment to providing customers a choice."
The low-friction design of the X12 offers improved fuel economy with extended maintenance intervals similar to the Cummins X15 engine, as well as high mileage, real-world experience to ensure maximum uptime.