Over the past decade, manufacturers of mobile volumetric concrete mixers have seen a small but steadily growing number of customers either switching from drum mixers or adding volumetric mixers to their fleets.
Both types of mixers have pros and cons. By using a mobile volumetric mixer, however, you can not only keep your concrete fresh, you can save about 40 percent off your concrete costs, according to manufacturer Cemen Tech of Indianola, Iowa.
That's in large part because these mixers can help prevent over-ordering concrete that would otherwise be wasted. Their separate storage bins allow extra materials to be saved and mixed later for use. Trips to the batch plant, time at the jobsite, hot loads and other expenses can be saved, say proponents.
The volumetric mixers can also make it easier to manage short loads and longer travel times, as well as help you to better control quality, manufacturers say.
Precision concrete
The basic concept is that volumetric proportioning is based on volume, not weight. Precision is key.
"Automated machines of today are extremely accurate in producing concrete that meets or exceeds all applicable standards," says Connor Deering, president and CEO of Cemen Tech.
Also called mobile concrete mixers, volumetric concrete equipment works as a moving batch plant of sorts mounted on a chassis or trailer. It carries unmixed sand, cement, coarse aggregates, water, and any other admixtures or chemicals needed, to a jobsite where it is mixed as needed for fresh, maximum strength concrete to meet specifications.
Mix designs can be changed onsite without going back to the batch plant, too.
An increasing number of cities, counties, states and federal agencies are accepting volumetric mixing, according to the national Volumetric Mixer Manufacturers Bureau (VMMB) based in Silver Spring, Maryland.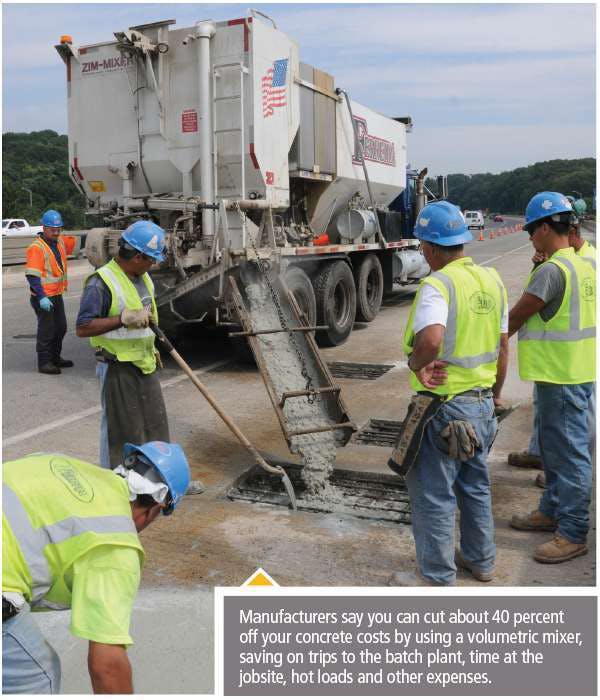 Five manufacturers founded the VMMB in November 1999 with the assistance of the National Ready Mixed Concrete Association (NRMCA). A primary goal was to develop a standard for which volumetric concrete mixing equipment could be rated.
VMMB-certified volumetric mixers must meet all the requirements for certification detailed in ASTM C685, AASHTO 241M and the VMMB standards.
The VMMB also promotes greater use of this equipment through education and awareness, as well as providing professional tools for both manufacturers and operators of mobile mixers.
CTS Cement Manufacturing, based in Southern California, provides quick-setting bulk cement under the trade name Rapid Set to concrete producers and contractors who use volumetric trucks.
"For our fast-setting cement, which is capable of structural strength in one hour, volumetric trucks are the best production method because it eliminates the need to factor in unexpected haul times," says John Kim, senior research engineer for CTS.
"The popularity of volumetrically mixed trucks is definitely growing," Kim adds. "Especially within the past 10 years, acceptance with the DOTs and overall trust within the industry has significantly grown."
Volumetric mixers in the fleet
When it comes to roadbuilding, it's not always just one type or the other, drum versus mobile volumetric mixers. Some companies have found it helps their bottom line to use both.
Paul Harris is sales manager for ProAll of Alberta, Canada, which manufacturers Reimer volumetric mixers. He notes that some customers who might buy, say six drum (batch) mixers, are now making their seventh purchase a volumetric mixer.
"That last truck out of the seven to go is volumetric. It can be used to make the last amount needed and shut it down, with no waste," Harris says.
"Batch plants used to look at volumetric mixers as competition. As the technology in the volumetric mixers increase, they're becoming accepted by the drum or the batch market."
Adds Harris: "It's increased our sales with bigger sales and batch customers looking to offset costs."
Most volumetric mixers are operated by contractors and concrete producers, with many trucks also going to government agencies and buyers, according to the VMMB. A good portion of these trucks are used to produce specialty concrete, such as gunite and shotcrete, rapid-setting concrete, "flowable" fill and special grout mixes.
The applications for these volumetric mixers include roads, highways and other infrastructure, precast, remote jobsites, military, utility, mining, airports, bridge decks, foundations, pervious and soil stabilization.
When it's critical to get roads, bridges and airport runways reopened as soon as possible, volumetric mixers are the only type that works with fast or rapid-setting cements, experts say.
With these machines, you can change mix designs "on the fly" without returning to a batch plant or dumping the unused material. That means an operator could pour 5,000 pounds per square inch of concrete, select a different mix design through the control panel and a few seconds later, pour a low-strength, flowable fill, the manufacturers say.
With volumetric mixers, it's all about control
While there's new technology that can help improve efficiencies and cut human error, the volumetric mixer is a mainstay that's been around 50 years. In the early 1960s, Harold Zimmerman of Pennsylvania invented a machine that could carry the ingredients needed to make concrete onsite, rather than delivering concrete that had been made elsewhere.
He applied for a patent in 1964 and teamed with Irl Daffin. The Concrete-Mobile was a hit, topping more than 2,000 machines produced by 1979.
With about 10 billion tons of concrete produced every year in the United States, no matter whether you're using a volumetric or batch concrete mixer, your challenges remain the same: you need to tightly control the quantity, quality and timing of your ingredients.
By far, the most important factor of concrete quality remains the water-to-cement ratio, which binds everything together. This ratio largely determines concrete's strength, durability, workability and finishing quality.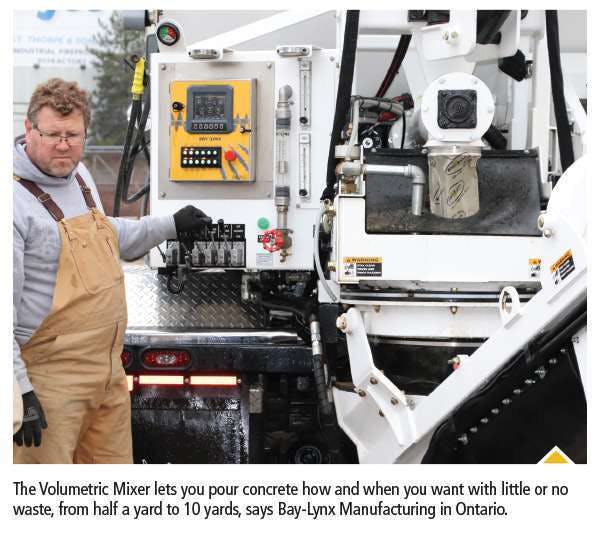 Many specifiers consider this ratio the foundation for building and approving mix designs, experts say. The more water added, the more reduction in the strength of the resulting concrete. Too little water makes the concrete more difficult to place and finish.
A volumetric mixer allows the operator to control the precise amount of water added to any mixture. And once operators have mastered that, they are looking at ways to cut costly errors and improve their bottom line.
Take, for example, new adjustable metering gates that enable the volumetric Zim-Mixers by Zimmerman Industries of Ephrata, Pennsylvania, to deliver the exact amount when and where it is needed. An operator uses adjustable metering, which mixes the materials into a homogenized stream of concrete delivered from the auger.
"We're having a very good year with strong sales internationally and domestically," says Joan Stoner, vice president of Zimmerman Industries.
Using machine technology to reduce human error
With traditional volumetric mixers built in 2014 or earlier, the onus was on the operator to make sure every decision was correct, says Harris.
Now, manufacturers are providing easy-to-learn operations and automation that reduce the chance for human error. That higher level of technology is switching some of the onus back to the machine, Harris says. The concrete industry, as with the rest of the labor market, faces challenges finding enough truck drivers and skilled workers. Such technology would help train new workers, Harris says.
He likes to joke that "if you can drive the truck and you've got a smartphone, in a day you can make high quality concrete from our Commander truck."
The Commander debuted in 2016 at World of Concrete in Las Vegas. Billed as a "new-look mixer and cutting-edge control system," it offered many features never seen before on a mobile mixer, ProAll said at the time. One big gain: the process can be run by one operator.
"For years, we heard from contractors and producers that they wanted a more responsive, more precise mixer that reduces the chance of operator error," according to Steven Fillmore, ProAll vice president.
"We took that feedback and developed the Commander with them in mind, so it's great to see their reactions when we demonstrate all the new capabilities of a Reimer Mixer. We really think the Commander is ushering in a new era for concrete mixers."
Some key features of the Commander include automated mix functions, digital controls for mix adjustments and state-of-the-art hydraulics that help deliver total consistency to your mix.
At Cemen Tech, the C60 Volumetric Mixer features Accu-Pour capabilities and new automated gates as standard.
The automated gates make the C60 fully computerized and continue to reduce operator error by synchronizing the mix design with the appropriate gate setting for material flow, according to Deering. An operator doesn't need to worry about manually changing the amount of material flow through the gates.
"This is the Accu-Pour Controller for the C60, the most accurate and only fully automated mixer on the market today," Deering explained as he showed features of the C60 at World of Concrete 2018 in Las Vegas.
Selecting a 3,000-psi mix design on the C60's display, Deering demonstrated how the equipment works: "When I hit start, you'll be able to see the gates start to move. These gates are setting themselves exactly according to the mix design that we've plugged into the computer. This is done so that we remove that element of human error. The truck now fully sets itself. It sets the gates, the admixtures, the water, all those things to ensure that it gets the perfect concrete out the mix auger every single time."
Using pre-programmed mix designs eliminates the risk of using the wrong mix because the information is stored electronically and available at the touch of a button, Deering says. "The C60's automation, one-button operation and accuracy make it easy for virtually anyone to pour concrete," Deering says. "You do not have to be a concrete expert."
Additional safety features include an optional wireless remote for one-button mixer turnoff, work platform, LED lights and Auto-Stow to securely store the chute in transit.
At Bay-Lynx Manufacturing in Ontario, Canada, the cement metering on the company's volumetric mixers is mechanically linked to the belt that delivers the sand and stone. That means the costliest ingredient of the mix will always be in a precise, accurate ratio, a company spokeswoman says.
What's the future hold?
The VMMB works closely with an affiliated organization, the National Ready Mixed Concrete Association (NRMCA).
Issues facing the concrete industry as a whole include a shortage of truck drivers, says Kevin Walgenbach, vice president of compliance and regulatory affairs for NRMCA.
While automation can help reduce the tasks of an operator and cut chances for human error, autonomous (self-driving) trucks, are an entirely different matter. And it's not when the autonomous trucks are going to show up on construction sites; they're already here, Walgenbach says.
"The potential for how autonomous trucks may impact the industry has probably yet to be seen," he says.