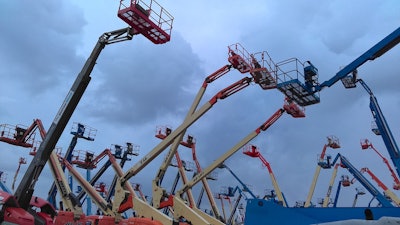 Long-awaited, sweeping changes to standards governing aerial lifts have now been published and will take effect in December 2019.
The new standards affect contractors, rental operations, dealers, equipment manufacturers, and equipment operators and their supervisors. The expansive overhaul even changes the name of the devices from aerial work platforms (AWPs) to "mobile elevating work platforms" (MEWPs).
"It is very important that all owners and users of MEWPs be aware of the key changes in these updated standards and implement plans to become compliant if they haven't already," says Tony Groat, North America manager for the International Powered Access Federation (IPAF).
The standards were approved by the American National Standards Institute (ANSI) and published by the institute December 10. The new ANSI A92 standards are similar to those by the Canadian Standards Association (CSA) that have been in effect since May.
The new standards cover MEWP design as well as safe use and training standards.
"Both suites of new standards will require all companies and individuals to be compliant within one year of the effective date of publication … it makes sense for firms and their employees to get to grips with the key changes now," Groat says.
The standards call for training for platform operators and occupants. Operators won't just be able to hop on a machine unless they've had training on it. Supervisors will also have to undergo training to better understand the machines' operation.
"It is not just operators that need to know about safety when working at height – those supervising the use of MEWPs must also be able to plan, conduct proper risk assessments and adequately supervise safe behaviors," says Andrew Delahunt, IPAF's director of technical and safety.
Along with training requirements, the machines will require new technology to address chassis tilt, platform overloading and wind effect on load. Manufacturers have already been making these changes for MEWPs, many of which cause the lifts to automatically shut off when exceeding parameters. Machines built before the standards take effect will be grandfathered in.
Contractors and rental shops will need to spend more time determining which lifts are appropriate for a job.
For instance, platform capacity is currently overseen by the operator, which can lead to overloaded platforms. Under the new standards, MEWPs must automatically shut off when nearing rated capacity.
Overall, IPAF says the standards are designed to bring much-needed safety standards to the industry.
"The updated ANSI standards will lead to a safer work environment when using powered access equipment to work at height," Delahunt says.
To help prepare the industry for the new standards, IPAF has developed four white papers to outline the ANSI requirements. It also offers an operator training program and a training course for managers. Operators can obtain an IPAF PAL (Powered Access Licensed-Registration) Card, which shows the machine categories they are trained to operate.
Editor's note: This article has been corrected to clarify IPAF's role in assisting in the development of the standards that were approved and published by ANSI.