Editor's note: An earlier version of this article misstated the X12 Series engine's torque range. The range will extend to 1,700 lb-ft, not 1,750 lb-ft as previously stated. The article has been updated to reflect the correction.
During a press conference at the Transportation Research Center in East Liberty, Ohio, Cummins pulled the curtain back on its next-generation engine family, the 15-liter X15 (available in two configurations) and the 12-liter X12 heavy-duty diesel engines. Both engines build off the legacy of Cummins' ISX platform and offer a variety of design and performance improvements depending on the model.
With the announcement, Cummins also said the new engines are ready to exceed the U.S. Environmental Protection Agency's 2017 greenhouse gas and fuel efficiency standards.
Even without the looming regulations, the engine launch is perfect timing for Cummins, a company whose dominant grip on market share has slipped in recent years as proprietary integrated engine-transmission packages from truck OEMs have taken a bite out of the engine maker's business. Cummins answered with its own optimized platform, partnering with Eaton in 2013 to launch the SmartAdvantage powertrain package.
With its new X series platform, Cummins introduces its future heavy duty engine lineup aimed to retain fleets and owner-operators who prefer red engines under their hoods and woo back those who went the OEM route in their last purchase cycle.
Lean or mean
While the ISX platform has only one 15-liter starting option, the X series offers two: The fuel-sipping X15 Efficiency Series geared toward line-haul and regional markets, and the X15 Performance Series, built specifically for heavy-haul, vocational and other demanding applications.
Cummins made several hardware changes to improve performance on the X15 Performance engine, including a high-flow EGR cooler and piston cooling nozzles and exhaust valves to improve reliability. The X15 Performance Series boasts from 485 to 605 horsepower, torque ratings from up to 2,050 lb-ft, and as much as 600 braking horsepower.
"We have increased braking power through the operating speed of the engine, from 1,300 to 1,700 rpm, where you need it the most," said Jim Fier, Cummins' vice president of engineering. "No matter how difficult the job, drivers will have the confidence that they'll be able to get up the mountain and back down with no worries."
The X15 Efficiency Series ranges from 400 to 500 horsepower and 1,450 to 1,850 lb-ft of torque, and 400 braking horsepower at 1,300 rpm. In addition, Cummins has added predictive cruise control to its ADEPT suite of connected vehicle technology.
"Many have wondered about the role of the big-bore, heavy-duty engines in the North American market as compared to more recent medium-bore introductions, begging the question whether we'll follow what's happening in Europe," says Lori Thompson, Cummins' vice president of marketing. "With the benefit of several years of market experience, we can snawer that question: the big-bore engine is here to stay.
Cummins first announced its single module aftertreatment system concept in 2015, and it is now production-ready with the X series, combining VOC, DPF and SCR into a single canister and saving up to 60 percent more space and weighing 40 percent less than the company's previous aftertreatment system. In addition, the single module aftertreatment system allows the DPF cleaning interval to be extended to between 600,000 and 800,000 miles.
Cummins also announced its OilGuard oil analysis program that offers customers the opportunity to extend oil drain intervals as far as 80,000 miles.
"Everything we have done on the X15 engines, whether to maximize efficiency or maximize performance, was done with the very conscious effort to make enhancements only if they would be dependable," said Fier. "Fuel economy and horsepower only matter if that vehicle is on the road."
Light might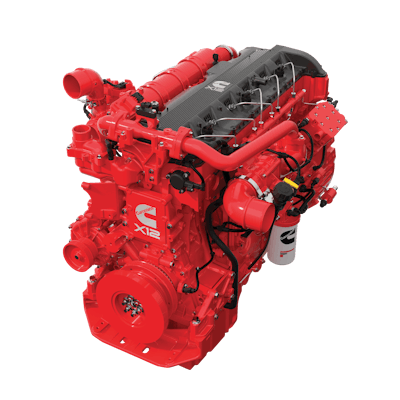 The X12 Series engine ratings range from 350 to 475 horsepower and 1,250 to 1,700 lb-ft of torque and Cummins' best power-to-weight ratio at 2,050 lbs., 150 lbs. lighter than the next closest competitive engine, according to Cummins.
Material has been removed from the block where possible, including the flywheel, adding structural support "ribs" to add strength and rigidity.
"This engine was designed from the ground up to remove as much weight as we could while retaining superior dependability," said Fier.
The X12 will share several components with the X15, including the Cummins Holset VGT Turbo, XPI fuel system, engine control module and single module aftertreatment system.
After years of development and 9 million miles of testing, Cummins will begin limited production of the X15 late this year; full production will begin in January 2017. Customers wanting the X12 will have to wait until 2018.