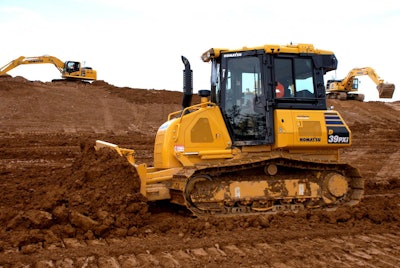 Less than a week out from a media event focusing on "the jobsite of the future" at its North American customer center in Catersville, Georgia, Komatsu on Thursday unveiled its latest semi-automatic dozer.
The new D39PXi-24 replaces the D39PXi-23 which was introduced in 2014. It is the second-smallest dozer in Komatsu's intelligent Machine Control (iMC) product lineup, which includes 5 other dozers and the PC210LCi-10 excavator.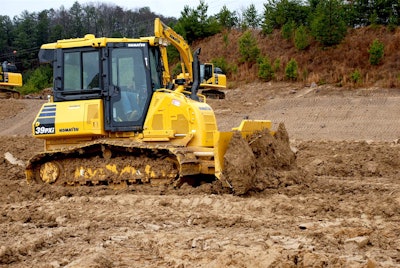 Along with updating the machine's engine from a Tier 4 Interim to a Tier 4 Final model, Komatsu has also introduced a few new features to the iMC lineup with the D39PXi-24.
Powered by a 3.26-liter Komatsu SAA4D95E-7 engine producing 105 horsepower, the dozer, like the rest of the iMC dozer lineup, is set apart by built-in machine control, which allows the machine to be placed in automatic mode from rough dozing all the way through to finish grading.
iMC allows the dozer to sense and control blade load thanks to a pairing of stroke-sensing hydraulic cylinders and an Inertial Measuring Unit. When auto mode is engaged, the system automatically starts the cut and lowers the blade to the correct grade. The blade is raised once the system senses that the load has increased to the maximum.
Komatsu says iMC provides an 8-percent boost in efficiency compared to typical aftermarket machine control systems. And since the system is wireless and mounts no components to the machine's blade, there's no need to worry over any damage to the hardware.
Beyond the typical iMC tech, the D39PXi-24 also brings a new standard automatic reverse grading mode. This feature, added after customer requests, enables auto blade control while reversing.
The dozer has also been improved with a new "Triple Labyrinth" housing design which offers more protection for the final drive floating seals, and a new water-cooled variable flow turbocharger. On this updated model, Komatsu has also included auto-idle shutdown.
The iMC dozer lineup now consists of the D37PXi-23, D39PXi-24, D51PXi-23, D61PXi-23, D65PXi-18 and D155AXi-8.
Komatsu plans to introduce two more iMC dozers in the coming weeks and we'll have full coverage of the company's media event next week.