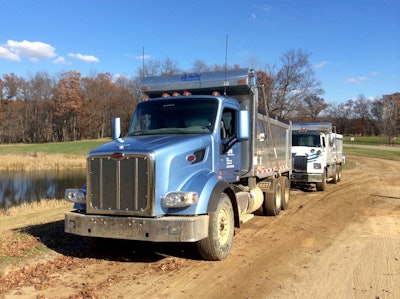 Eaton and Cummins announced upgrades to their jointly-developed and marketed SmartAdvantage optimized powertrain Wednesday at the Eaton Proving Grounds outside of Marshall, Michigan, as well as upgrades across all Eaton UltraShift Plus-based automated manual transmissions (AMTs).
Chief among the SmartAdvantage upgrades is a new direct-drive version of the integrated powertrain, designed for fleets that typically operate at lower highways speeds ranging from 50 to 62 mph. The direct drive option is available with Cummins ISX15 in 400- and 450-horsepower ratings and 1,550 and 1750 ft.-lbs. torque-ratings and designed to insure optimal performance at lower rpm when combined with a 2.26 or 2.28 axle ratios.
The direct drive SmartAdvantage will complement the overdrive version of the powertrain, which debuted in 2013, and is now being offered with expanded horsepower ratings. According to Ryan Tryzbinski, product strategy manager for Eaton, new 400- and 420-horsepower ratings for the overdrive SmartAdvantage drivetrain will provide fleets and owner-operators with additional options beyond its original 450 horsepower rating.
Additionally, Eaton's "small step" gearing technology adds a 26-percent step between 9th and 10th gears to maximize downspeeding in the small-step overdrive model by keeping the engine in its "sweet spot" for maximum fuel economy.
According to Tryzbinski, the expanded SmartAdvantage options are all about giving fleets and owner-operators more choices in how they spec trucks. "Today's line haul and regional haul fleets are spec'ing down speed powertrains to maximize fuel efficiency," he notes. "And only the SmartAdvantage Powertrain offers industry-leading downspeeding in both small-step overdrive and now direct drive transmission ratios, allowing fleets to choose the best ratio for their application, cruise speed and terrain."
Enhanced low-speed control
Eaton also announced new electronic control systems for all UltraShift Plus-based AMTs (including SmartAdvantage versions) designed to give drivers more precise vehicle control at low speeds.
Tyzbiniski explains that most AMTs on the market today, regardless of brand, are too aggressive at low speeds. Drivers often have a hard time metering throttle inputs and can find it hard to maintain a consistent, manageable speed when backing to connect with a fifth wheel in tractor-trailer configurations, or in vocational applications running concrete mixers or dump trucks spreading asphalt.
The Blended Pedal system uses a new way of controlling the transmission to counter this problem.
Traditionally, when a driver steps on an accelerator pedal, they are boosting the air-fuel mixture into the combustion chamber to increase horsepower. But on new UltraShift Plus AMTs, up to 50 percent of initial throttle input now controls transmission clutch actuation. This gives drivers the ability to fine-tune low speeds and easily maintain them to meet specific tasks.
Though its availability is not limited to the configuration I tested it in, I was able to try the feature out on both SmartAdvantage-equipped trucks, where it was configured in reverse gears, as well as on the VCS, VMS and MXP vocational Ultrashift Plus transmissions. In all instances, I was able to easily, and precisely, control the truck's speed.
And the system is so finely tuned that even minuscule throttle inputs immediately yielded tightly-controlled RPM and speed adjustments.
In low forward gears, all Eaton UltraShift Plus AMTs now feature a new "Urge to Move" function. This function integrates with the preexisting "Hill Hold" feature: The transmission holds the truck in place as RPMs and torque increases and then slowly starts the vehicle moving forward at creeping pace. Eaton notes that not all UltraShift Plus AMTs have this feature enabled.
The combined systems are impressive: The UltraShift Plus effortlessly held dump trucks loaded with 65,000 pounds at a dead stop on 8- and 15-percent grades during my evaluation drives and then easily started the truck moving uphill without any throttle input. The system is so robust that the MXP, heavy-duty version of the transmission was able to hold and start a Western Star severe-duty tractor loaded to 125,000 pounds on the same 15-percent grade.
The system works just as well on downgrades, although gravity, payload and inertia will eventually cause the transmission to kick out of Urge to Move mode and require getting on the brake pedal.
All of these enhancements confirm Cummins and Eaton's "continuous improvement" strategy for SmartAdvantage drivetrains and UltraShift Plus AMTs. All new features and functions will be available beginning next year, although firm production dates have yet to be set.