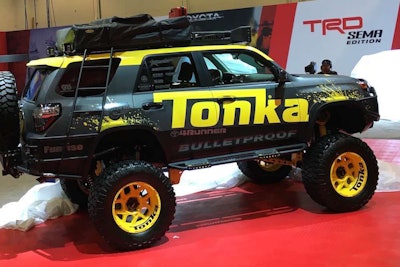 Just the word "Tonka" is enough to stop most grown men in their tracks. It's embedded at an early age and tied to simple, happy memories of filling a small yellow truck with dirt or mud and pushing it around on all fours.
Ford recently gave every male over 20 a heart attack when it unveiled a working F-750 Tonka dump truck. And at SEMA, Toyota decided to jump in on the Tonka fun with a heavily modified, and highly-lifted 4Runner concept.
Designed in collaboration with Funrise Toys, which makes Tonka toys for Hasbro, the Tonka 4Runner concept truck is probably a little different than the yellow trucks you grew up with. Nonetheless, it was a big draw to the automaker's SEMA booth with its big bright Tonka logo, custom 10-inch Bulletproof suspension kit and King 8 x 2.5- and 10 x 2.5-inch coilovers.
The truck sits on 38-inch Mickey Thompson Baja MTZ tires and 20-inch Ultra Motorsports Type 250 Colossus wheels. They even threw in a pop-up tent on the roof in the event you find you never want to let this thing out of your sight.