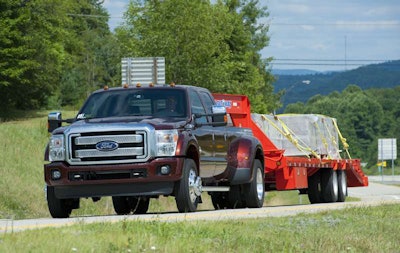 When there're billions of dollars in sales on the table, auto manufacturers that build pickups aren't shy about boasting they're the "best" in any area they can to drive customers to their product.
So when Ford saw Ram Trucks laying claim they are the best-in-class in the 2015 heavy-duty pickup towing segment, the boys at the Blue Oval used some slight of hand and their own testing criteria to say their 2015 F-350 Tow Boss tows 31,200 pound 5th wheels/goosenecks, which is about 1,200 pounds more than Ram's 3500 dually.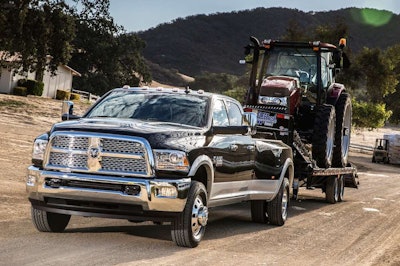 But Ram keeps advertising they are the best. So, according to a story in Automotive News, Ford is apparently threatening Ram with legal action about those claims and Ram isn't backing down. Will we see black eyes and bloody noses? I think punches will definitely be thrown.
Here's Ram's rub with Ford's claim: The F-350 Tow Boss is just a re-badged Class 4 F-450—not a Class 3 F-350. Hence, according to Ram, Ford's claim of having the highest towing capacity in "Class 3″ trucks is bogus.
I agree with Ram that something is fishy in Dearborn. Call it Towgate or whatever, there's some shenanigans going on that I'm sure we'll hear more about down the road with all that's at stake.
First of all, the federal government has very distinct weight-class criteria that's based on gross vehicle weight ratings (GVWR) and if a pickup's GVWR is one pound more than 14,000 pounds, it's a Class 4. The Tow Boss' GVWR is 14,061 pounds according to Ford's data when you add up the 8,611 curb weight they list and the 5,450 pound payload capacity.
Then there's the little matter of how Ford sets their max tow numbers: Ram Truck uses the SAE J2807 testing criteria, while Ford is still using their own test criteria until an all new Super Duty comes out. (The 2015 F-150 will be J2807-compliant.)
Does all this make any difference to the typical construction contractor, aggregates manager or landscaper? Nope. Most heavy-duty pickup owners seldom tow more than 20,000-pound trailers. Heavier equipment is being pulled by Class 4-8 trucks. (Ford's new 2015 F-450 has a 35,000-pound max tow capacity.)
But for Ford and Ram Truck this is a huge deal. Each one likes to be called the King of Tow and will fight hood, latch and tow ball to earn that title. All the while, GM is watching quietly as their two cross-town rivals throw dirt at each other.