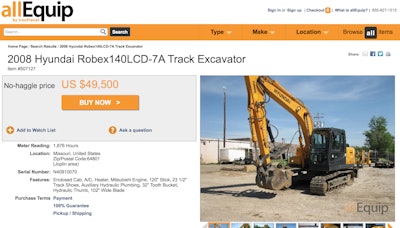 IronPlanet today announced the launch of allEquip, its new online marketplace for used equipment. But unlike the company's other offerings, these pieces of equipment aren't being auctioned off.
Instead, allEquip listings feature "Buy Now" prices. Similar to the concept of eBay's "Buy-It-Now" option, the site allows customers to purchase a piece of used equipment in just a few clicks—without having to bid on it.
Each listing is done under allEquip's oversight and every piece of equipment undergoes an inspection. The inspection report is listed directly below a photo and pricing of the piece of equipment and rates on a four-star scale the item's condition from general appearance all the way down to the chassis. allEquip backs the inspection reports with a 100 percent guarantee.
The site also coordinates every element of the transaction through final payment.
You can browse the types of equipment available on the site by clicking here.
The launch of allEquip is another step in IronPlanets pivot from online auctioneer to "multi-solution online marketplace," as CEO Greg Owens put it during an address at ConExpo earlier this year.
In January, IronPlanet augmented its original online auction services with a partnership with Mascus, a self-listing equipment service based in the Netherlands. The partnership allows the IronPlanet sales team to mine Mascus' inventory for items to trade.
The company also offers online trading, which offers a broker-type service to match buyers and sellers for equipment types—such as high-ticket cranes—where it doesn't make sense to put the machines in an auction. These two avenues are on top of the company's well-known online auctions, including TruckPlanet, which IronPlanet introduced last year.