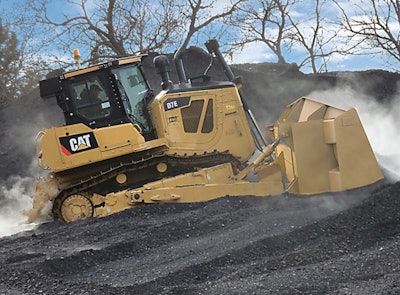 For the past decade the drive to reduce diesel exhaust emissions has dominated the headlines. But with the last EPA mandated deadline of 2014 for Tier 4 Final engines here, the war is over and a new front has opened in the drive for cleaner, greener equipment.
The new technology trend for heavy equipment is the merger of diesel engines with electric drive trains. Unlike exhaust emissions technology, which currently stops with Tier 4 Final, the diesel-electric revolution is just getting started.
More work, smaller engines
What all these diesel-electric and hybrid drive systems have in common is they allow you to run with a slightly smaller engine at a lower rpm. This translates into fuel savings, fewer PMs and longer engine life. But that's just the beginning.
Electric drive systems have an infinitely variable power band. Lugging the engine and redlining the tach become things of the past. Some proponents of diesel-electric earthmoving equipment are also promising that, with all the surplus electric power being generated, they may be able to do away with alternators and electrify the components that normally hang off the serpentine belt such as lube, AC and water pumps, thereby greatly reducing parasitic loads. Cummins officials even hinted that it might be possible one day to drive hydraulic implements with hybrid electricity instead of flywheel powered hydraulic fluid.
Manufacturers at this year's ConExpo-Con/Agg showcased a number of diesel electric and diesel-hybrid prototypes, but also on display were a handful of machines that have already proven their worth in the dirt. These include Cat's D7E electric drive dozer, Komatsu's HB215LC-1 hybrid excavator and John Deere's 644K electric hybrid wheel loader.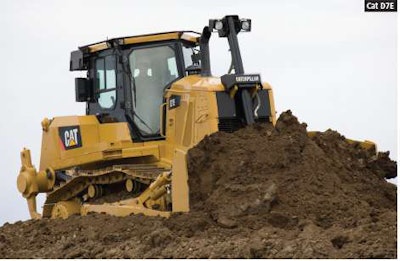 The Cat D7E is an electric drive dozer, not a hybrid, since it doesn't recapture energy from other systems. Rather it uses a Cat C9.3 diesel engine to convert mechanical energy into AC electrical current, which powers the final drives and generates DC current for the accessory systems. Thanks to the electric drive motor there is no transmission or gears in the driveline and the power output and speed are infinitely variable.
Alan Quinby, superintendent, Durango Services, Woodword, Oklahoma, took delivery of his first Cat D7E dozer three years ago and has added three more to the fleet. Fuel economy was the company's primary motivation, Quinby says. "We felt like the fuel savings and the increased production on that particular tractor would probably pay a big share of the labor, maybe even all of the labor if you figure it all together. We are convinced that they are paying their way," Quinby says.
"The operators love them. They don't lug down, they just push and the engine rpm changes very little. The torque is phenomenal," Quinby says. In a full day of work, Durango Services has found its D7E dozers can push almost as much dirt as a D8T while burning less fuel than a Tier 3 D6T, he says.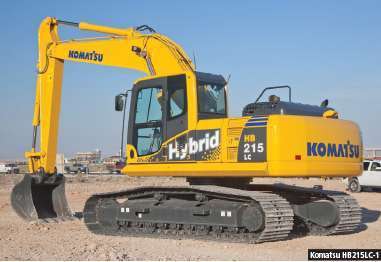 Komatsu's HB215LC-1 hybrid excavator uses a diesel engine as the starting point in generating electrical and hydraulic power for the machine, but it also has an electric swing motor/generator that recovers energy during the swing braking and can rotate the superstructure of the excavator faster than a hydraulic system. The generator/motor is positioned between the engine and the hydraulic pump to produce electric power and charges the capacitor when the engine is idling.
The capacitor can charge and discharge faster than a battery hybrid system and matches the quick response needed for the operation of the machine.
Will Dellinger, owner of JW Demolition in Charlotte, North Carolina, bought four Komatsu HB215C-1 excavators in 2011. "If I buy another 200-class excavator, I'll buy a hybrid, no questions asked," Dellinger says.
Getting 40 percent better fuel economy is what impresses Dellinger most about the Komatsu hybrid. He says they burn 2.5 to 3 gallons an hour vs. almost 6 gph on a similar sized conventional excavator. In terms of operation he says the hybrid has slightly less digging power than a conventional model. [Editor's note: The Equipment World Spec Guide shows the bucket breakout force of the HB215LC-1 at 31,080 pounds vs. 33,510 pounds for the PC210LC-10, about a 7 percent difference.] But Dellinger says the fuel savings and cab swing speed make his HB215LC-1s well worth the investment and the go-to machine for his demolition and material processing work.
"You not only save fuel, you save 45 minutes a day not having to track the machine all the way back to the fuel tanks and fill it up," he says. Dellinger says he typically gets a day and a half, sometimes two days between fill ups.
An additional benefit is the good impression the hybrid machine makes on his customers. "It looks good. It's quieter when you're working near neighborhoods because the engine idles down a lot. And there are fewer emissions," he says.
"My thinking is that this is the future," Dellinger says, "and I wanted to get in early. It's where we're headed and the right way to do things."
Miguel Diaz, equipment maintenance supervisor for the Solid Waste Authority in West Palm Beach, Florida, says his outfit bought its first Komatsu HB215LC-1 in May 2012 and then two more December 2013. Their motivation was to improve fuel economy and reduce their carbon footprint, Diaz says.
As far as handling and performance, Diaz says the HB215LC-1s are as good or better than regular excavators and the operators say they are satisfied with the braking power and operation. "Compared to a conventional excavator of a similar size, the HB215LC-1 has a better performance due to the different modes that we can use and it consumes less fuel," he says.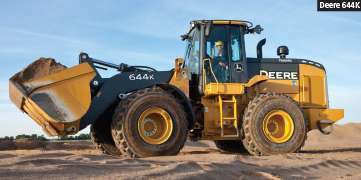 Deere's 644K electric hybrid wheel loader was rolled out in 2013. It uses a PowerTech 6.8-liter engine that pushes 229 horsepower through a brushless electric generator that converts it into AC current and also recycles braking energy back into the system to drive hydraulics and reap further fuel savings. It can also be driven as a motor to use recycled energy to drive the hydraulics. The company claims up to 25-percent fuel savings. The machine has four operating speed ranges from 900 to 1,800 rpm but no reverse gear or clutches since direction changes are performed by the electric motor.
Boris Campos, plant manager and Ron Karsting, plant maintenance supervisor at Scotts Miracle-Gro Growing Media Plant in Chino, California, took delivery of their new Deere 644K hybrid loader November 2013. The company saw the fuel savings and the chance to minimize its carbon footprint as the primary reasons to buy. Although the 644K is more expensive than a conventional loader, Campos says, "I think it's worth every dollar."
The loader is used to move and blend raw materials in the yard with a six yard bucket in a high-production environment, 12 hours a day, six days a week. Since November they've already put 2,600 hours on the machine. The fuel economy, says Campos, has been outstanding. "We've gone from our typical machines getting 5 to 6 gph to our last report which showed the 644K getting 2.7 gph," he says.
In operation, the electric drive gives the loader a hydrostatic type of feel, says Carstain. The engine rpm stays constant, which makes it quiet and keeps the hydraulics at full pressure. The modulation of power through the electric drive also gives the machine dynamic braking thus reducing wear on the service brakes. "On a typical loader you dig into the pile and throttle up to increase the rpms so the hydraulics can pick up that heavy load," he says. "You don't have to do this on the 644K. You just dig in, lift back on the joystick and the power is there."