No. 5 story in 2014
Ryan Neal believes at least part of his success as a heavy equipment operator is built in.
"Some people have a natural ability for running equipment just like some people have natural abilities to play basketball or football or to sing," he says. "In an excavator it's an extension of your arm. You do have to have good depth perception and a feel for the machine."
[youtube DKkSifGXYGY nolink]
But Neal says the other part, arguably the most important, must be built up.
"It's just about being confident and knowing you can do the job…from picking up a wine glass to how many feet of pipe can I lay in a day."
And if you're wondering what kind of job would require Neal to pick up a wine glass with a piece of heavy equipment, don't worry. He thought the idea was odd when it was first presented to him as well. Then again, Neal isn't your everyday operator.
Built For It
As a senior demonstrator instructor for Caterpillar, Neal is based at the equipment manufacturer's Edwards Demonstration and Learning Center, about 20 minutes west of the company's headquarters in Peoria, Illinois. And while he spends the majority of his working hours at the facility, between 30 and 40 percent of his time is spent traveling all over the U.S. and "every nook and cranny" of the world doing product demonstrations for customers and operator training, all the way down to production analysis and support at dealer events.
Being one of Caterpillar's top in-house operators, Neal recently starred in a trilogy of videos the company produced in the hopes of introducing the brand to a younger, much broader audience.
Dubbed the "Built For It Trials," the videos have been a resounding success with the first, "Stack"—where Cat excavators and telehandlers play Jenga with 600-pound blocks—achieving viral status and racking up some 2.1 million views as of this article's publishing. The second video in the series, "Gravity," put Cat's B15 Android smartphone through the test of being dropped in a pool of water before being run over by a 277D multi-terrain loader. It has accumulated more than 1 million views.
But it's the last video, "China Shop," that is Neal's favorite. Since premiering last week, the video has garnered more than 250,000 views and places a Cat 301.7 CR mini excavator inside a small simulated China shop and asks Neal to navigate through more than $40,000 worth of glassware. For the video's finale, Neal must finish a pyramid of wine glasses by stacking the last glass at the very top—using the bucket of the excavator.
"It is my favorite and part of it was because it was so challenging. Literally, the space constraints I had were half-an-inch on either side of the machine with a lot of expensive China in there," he recalls. "I had all kinds of visions in my head of knocking a wall over and China falling everywhere."
But that didn't happen. And not just in Cat's finished video. You won't find a secret hard drive somewhere deep within Cat HQ filled with footage of Neal destroying the fragile set only to be rebuilt for a better take. Not a single piece of glass was broken during filming despite long hours and lots of takes for the best shot possible.
"It was just like a movie production which was different for me as well. But to do it over and over and over again, you're like 'Why are we doing this?' But to see the finished product… it was amazing," Neal says. "Maybe the neatest experience I've had at Caterpillar and I've had a lot of cool ones."
But Neal wasn't always starring in viral videos. He got his start just like anyone else in the construction industry and his story is a great example of the wide range of opportunities for skilled operators.
From small town to viral star
Neal grew up in the small town of Gridley, Illinois. He got his start working during his high school summers as a laborer for his cousin's construction company. He eventually worked his way up to operating equipment, starting with a Cat 426 backhoe.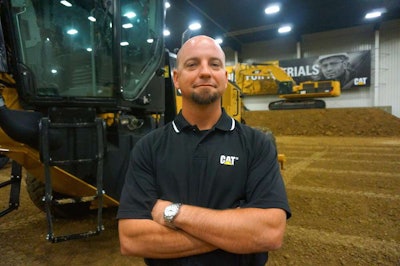 When he graduated high school, he continued working for his cousin part-time while pursuing a landscape architecture degree in college. But when it became clear to him that his future was in the cab of a machine, Neal dropped out of school to pursue his career as an operator full-time. "Making money was more fun than finishing school and I wouldn't take any of it back," he says.
Eventually, he took a job at Stark Excavating, a larger firm based in Bloomington where he would gain more experience with a variety of equipment. He started at the controls of scrapers and backhoes but worked his way up to the pipe crew and operating an excavator. "I had a natural knack for seeing grade and just was really comfortable running excavators. They're by far my favorite piece of equipment to run," Neal says. It was while working at Stark that he learned about Edwards and after a visit to the facility, he put in a resume to Caterpillar.
Nine months later, he got a call and was asked to come in and interview. He was asked to run five pieces of equipment to show his skill inside the cab. But he was also asked to give a presentation to prove he could handle public speaking, another big part of the job. "They're going to throw a curveball at you and have you run something you've never ran before just to kind of see how you handle it," he recalls. For his interview, Neal ran a wheel loader, track loader, excaator, bulldozer and a motor grader. "I didn't have a whole lot of experience running motor graders at the time and fortunately I didn't fall on my face."
Always learning
One of the things that stands out about most equipment operators that you meet is that the great ones are always willing to learn something new. Though, as Neal will attest, confidence and a bit of ego go a long way in becoing a good operator, so too does a focus on efficiency and a willingness to move outside one's comfort zone in order to try doing things someone else's way.
Neal says that since joining Caterpillar his skills have improved greatly as he has learned not only from his peers and mentors at the company but from the customers he assists every day.
"You know, Caterpillar has tested and proven specific ways that their machines are meant to run, the most productive and efficient way," he says. "Every time I go on a customer's site I learn something new. It's just about being open to change. There's always a way to do something different and maybe the way you've done it for a long time isn't always the quickest or most efficient way."
Much of his job is sharing that experience and knowledge with customers and other operators of Cat equipment and asking them to move outside their comfort zones. "Believe it or not, every time we go there to a site, whether it's two operators or 10 operators, they always come out learning something," he says. "If it's one little trick that helps them load the bucket faster or one little trick that makes them push the pile of dirt with a dozer more efficiently, it adds up in the long term."
Another big part of Neal's job is shaping the Caterpillar machines of the future as well as how they are run. And though the viral videos are cool, Neal is well aware that his legacy at Cat will be the machines: the ones he has worked to improve and the ones not yet in the dirt.
"They take our real life experience to heart and they listen to us. We've been there. We fed our families by running equipment before we came here and they really listen to what we have to say," he says.
"To be a part of how some of the equipment turns out when it comes into the customers hands to know that you've touched that equipment and that some of your thoughts and decisions have influenced the way the machines run is a proud feeling. For an operator it's one of the neatest experiences that you'll ever get."