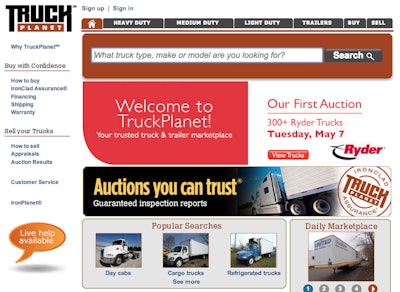 Having sold $500 million worth of used trucks to date, IronPlanet is no stranger to serving that market. And given that success, the company has launched TruckPlanet, a separate website dedicated solely to the buying and selling of used commercial trucks.
The site will hold its first auction Tuesday, May 7 when it sells off 300 road-ready Ryder trucks.
"We are leveraging our 13 plus years of used heavy equipment and vocational truck expertise to create a flexible online marketplace that meets the specific needs of the over-the-road commercial truck industry," said Randy Berry, IronPlanet's senior vice president of operations and services, in a prepared statement.
TruckPlanet offers just about any commercial truck you can think of. Day cabs, sleepers, refrigerated trucks, flatbeds, light-duty pickups and heavy haul tractors are all there flanked by IronClad Asuurance guaranteed inspection reports.
Truck financing and warranty programs are available as well and the site offers customer service agents who can talk buyers through the process of buying with TruckPlanet.
"We are very excited to bring the same marketplace that changed the used equipment business to the truck industry," said Greg Owens, CEO of IronPlanet, in a prepared statement.
IronPlanet began its online equipment operations a decade ago and has sold more than $3 billion worth of used equipment and trucks. Visit TruckPlanet.com to check out the new site.