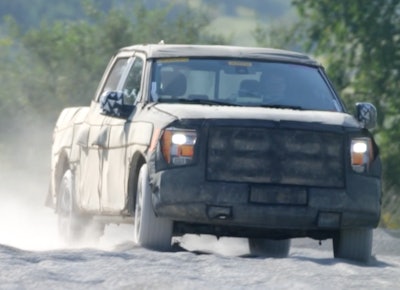 When the 2015 F-150 was announced in January a lot of people wondered just how durable a pickup with an aluminum body could be.
Wonder no more.
Today, Ford let us in on their torture-testing process for the 2015 F-150 with video of all 10 steps. Some of these steps are so grueling that just five days of prolonged testing would equal 10 years or 150,000 miles by what Ford calls the "roughest customers."
By the time the new F-150 hits dealers this fall, it will have been subjected to 10 million miles of combined real-world and simulated durability testing. Below are descriptions of all 10 steps. If you'd rather see the full video of testing we've included it below.
1. Seven-channel input torture rack
Ford's custom torture rack twists and shakes the F-150 in seven different ways simultaneously for five days to stress-test the durability of the frame. That's the equivalent of 225,000 miles.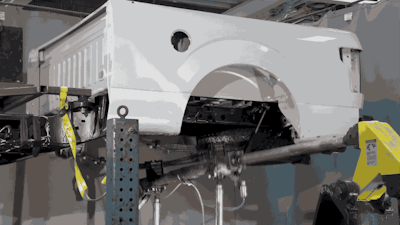 2. Silver Creek durability course
"Imagine hitting a crater-sized pothole every five feet for miles—going 20 miles per hour," Ford says describing the Silver Creek durability course. The course is made up of two extremely rough roads: one is composed of 15 types of chuckholes and the other is made from broken pieces of concrete. The surface is so terrible that traveling 500 miles on it would be the equivalent to 20,000 miles on normal rough roads.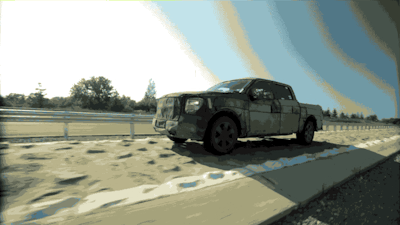 3. Power Hop Hill washboard track
Ford's washboard track has an 11 percent grade and stresses engine and transmission components by knocks wheels from the surface before allowing them to experience a hard landing over and over again.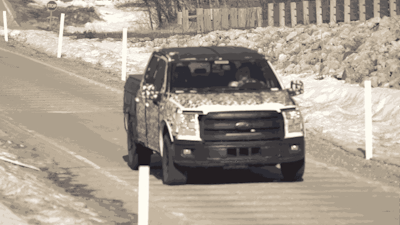 4. Drum drop bed durability test
Ford dropped 55-gallon drums into the F-150's bed at an angle to test the durability of the aluminum bed.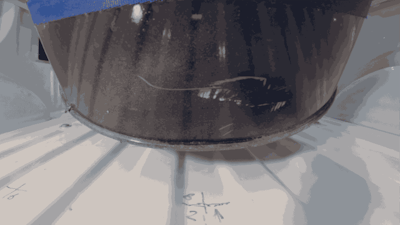 5. Acid bath aluminum test
As Ford has mentioned in the past, the aluminum body of the 2015 F-150 won't rust. But to put that advantage to the test, they developed a corrosive acidic spray and bathed the truck in it before soaking it in a high-humidity chamber. "After simulating 10 years of exposure, the aluminum material showed virtually no signs of degradation," Ford says.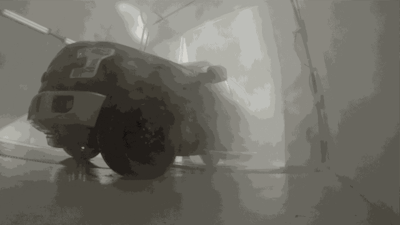 6. Davis Dam 13-mile climb while towing
The Davis Dam durability route stretches from just outside Bullhead City, Ariz., to the top of Union Pass. Ford hitched up maximum trailer loads and ran the AC full blast while pushing the F-150 13 miles at speeds from 35 mph to 65 mph.
7. Stone Peck paint testing
To test the paint on the new F-150, Ford drove the truck over 150 miles of gravel roads before subjecting the truck to another 150 miles over pellets of jagged scrap iron—basically heat-strengthened shrapnel. Ford says just about ever surface on the truck was pelted.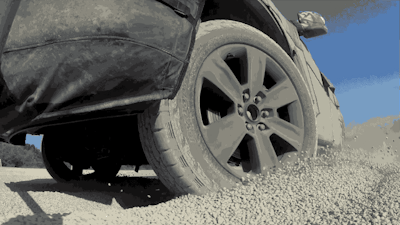 8. Thermal engine shock
Ford placed the F-150 engines in a special cell and simulated towing at full throttle up a steep grade through a dynamometer before shock testing them by cooling them to minus 20 degrees in 20 seconds. The engine then runs at maximum power while temperatures stabilize before being chilled again. The process is run 350 times over more than 400 hours.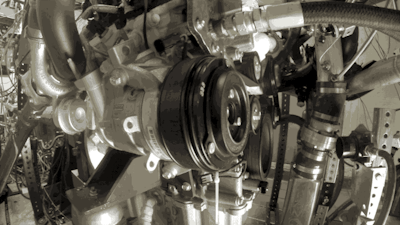 9. Rock and stop rear axle test
To test the durability of the rear axle for off-roading, Ford performs 500 aggressive starts on a specially designed stand that creates impacts at nearly 2,000 lb.-ft. of torque— 130 percent more torque than the truck is capable of making.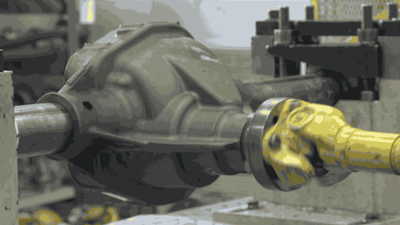 10. Twist ditch frame test
The twist ditch stress-tests the truck's body and frame through "a set of parallel dirt mounds built to create a situation where one front wheel hangs in the air while the opposing rear wheel leaves the ground repeatedly."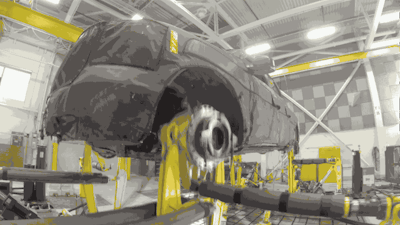 [youtube 4lWUylk9jCQ nolink]