It's been 25 years since a Cummins turbo diesel engine was first offered in a Ram pickup and to celebrate the occasion, Cummins has announced an upfit package for 2014 Ram heavy duty truck owners.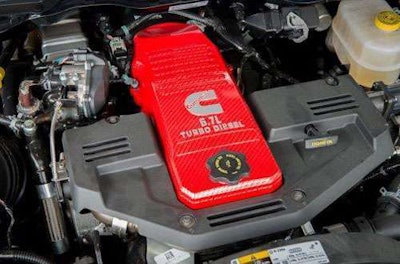 The upfit package includes appearance upgrades to both the inside and outside of the truck including:
A red engine cover
Cummins-branded black Katzkin leather interior with the 25th Anniversary logo
Exterior badge emblems with the anniversary logo
Floor mats with the anniversary logo
A hitch cover with the logo
The package is ordered through GenosGarage.com and the leather interior must be installed by a local Katzkin dealer. The upfit package starts at $2,195 for a standard cab and goes up to $2,395 for crew and mega cab models. And if your seats aren't already heated or cooled, you can add heating and cooling for an extra $1,000 or just heating for $350.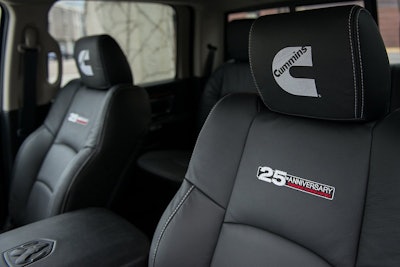 In the announcement, Cummins noted all the advances made in its pickup engines in those 25 years including doubling horsepower from the original rating of 160 hp, the move from a 12- to 24-valve cylinder head, an increase in displacement from 5.9 to 6.7 liters and the introduction of the VGT Turbocharger with integrated exhaust braking.
In 1985, Ram built the first prototype pickup with a Cummins turbo diesel. The D350 SE prototype was powered by a Cummins B59, a 12-valve, 5.9-liter inline-six that produced 400 lb.-ft. of torque. To celebrate the engine and pickup that gained them the mindshare of consumers that the company hadn't yet enjoyed until its partnership with Ram, the prototype 350 was fully restored back in March and has been making the rounds across the country. You can see more photos in our full gallery of the pickup by clicking here.