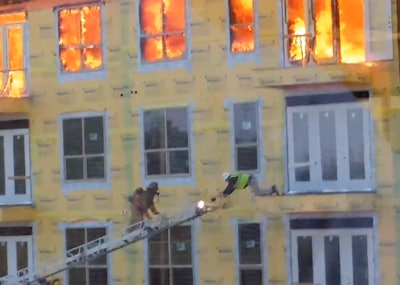 A $50 million luxury apartment complex under construction in Houston was reduced to ashes Tuesday afternoon by a five-alarm fire that raged for nearly two and-a-half hours.
There were 90 construction workers in the building when the fire started and all were evacuated safety and without injury. However, there was an extremely close call when one stranded worker was rescued by ladder after the fire forced him to jump from a fourth-floor balcony to another on the third.
The worker, Curtis Reissig, told ABC News affiliate KTRK-TV that the fire was so close he could feel his skin burning at one point. Reissig was inside the unfinished building at the time and struggled to get a window open. He made it to that fourth-floor balcony before dropping down and being rescued by the ladder.
According to HFD spokesman Capt. Guy Lozano, the worker was rescued "pretty much seconds before the fire would have overtaken him."
[youtube Cg9PWSHL4Vg nolink]
The rescue was captured on video that you can see to the right.
Houston Fire Department Chief Greg Lewis told the Houston Chronicle that the fire is believed to have been started by welding on the roof of the building. The fire was small at first but spread quickly by the wind.
"When our units arrived, there was a small fire and construction workers were attempting to put it out," Lewis said. "There was sustained wind of 15 to 20 miles an hour, and it was a wind-driven fire."
The fire broke out at around 12:30 p.m. Tuesday and it took nearly 200 firefighters and 80 pieces of equipment to bring the fire under control around 3 p.m. The five-story, 396-unit complex, located in Montrose, an inner-city neighborhood west of downtown, was completely destroyed.
The complex was slated to open to tenants in June.
The Houston fire is the second five-alarm fire to destroy an apartment complex under construction this month. In San Francisco, a six-story, 360-unit complex was destroyed March 11.
Smoke from the fire could be seen from miles around Houston. You can see more videos of the blaze below.
[youtube i3X8aEDmk-k nolink]
[youtube utU-RyR9GCs nolink]