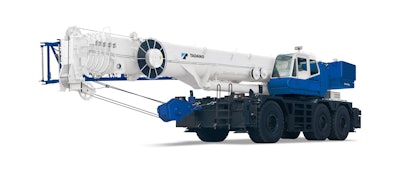 Tadano America's latest is the GR-1600XL-2 rough terrain crane, which offers a 160-ton capacity—the company's highest in a rough terrain model—and a lot of maneuverability.
A 200-foot 6-section rounded boom delivers 201 feet of lifting height with a 185-foot load radius, and is powered by a single telescopic cylinder. A two-stage bi-fold lattice tilt-type jib extends the tip height to 257 feet with a 200-foot load radius.
The crane features Tadano's first compact 3-axle carrier, which improves maneuverability on confined jobsites via 6-by-4-by-6 drive, four steering modes and a 32-foot 6-inch turning radius with 6-wheel steer. To ensure easy transport, the counterweight and outriggers are self-removable with no assist crane.
Standard features include the HELLO-NET system, which enables monitoring crane activity from a computer or mobile device; eco-mode and positive control systems for reduced fuel consumption; reduced CO2 emissions; an automatic moment limiter that allows the operator to present the working environment, including load radius, boom angle, tip height and swing range; and asymmetrical multi-position outrigger setups.