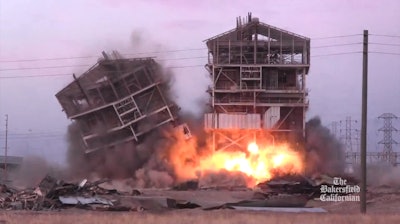 Just as the recent and deadly demolition of a Philadelphia building showed us, keeping the chaos of a collapsing building constrained to a particular area requires a lot of focus and planning. And sometimes the focus and the planning just aren't there.
Unfortunately, just a few days ago we received another reminder of this as several spectators of a steam power plant implosion in Bakersfield, California were injured by shrapnel flung form the collapsing structure.
The video below, posted to YouTube by The Bakersfield Californian actually captures the shrapnel flying from the power plant. The shrapnel flew all the way into a Lowe's parking lot where it injured three people including one man facing "one obvious amputation, possibly two."
Two vehicles, including a Bakersfield Police Department cruiser, were also damaged by shrapnel from the blast. Watch the Californian's video below.
[youtube 5N-6EcnsmxU nolink]