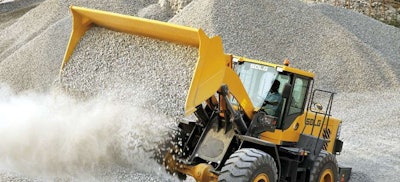 Seven Volvo Construction Equipment dealers are poised to begin rolling out two models of the Chinese-made SDLG wheel loader line in North America next month.
SDLG, a Volvo subsidiary, will target the 2.4 cubic-yard LG938L and the 4-cubic-yard LG959 at customers owning fewer than five machines, says Al Quinn, SDLG director for North America, in an interview with Equipment World today. In addition to construction, the company is also promoting the loader to agricultural prospects, and the machines will debut at the Dakotafest event near Mitchell, South Dakota August 22-23.
The loaders will retail for 30 percent less than comparable premium loaders, according to Quinn. The standard LG938L is priced at $94,500 and the LG959 is going for $144,500, with all options extra. "Eight machines are here right now and our parts shipments are in route," Quinn says. SDLG is establishing a parts depot at Volvo dealer ASC Construction Equipment's Atlanta location.
SDLG's market message is "solid performance made simple." The machines are absent the telematics and electronic controls available in premium machines. Quinn calls the loaders' technology "older, but tested." For example: transmissions and axles are a generation older, and the machines use dry brakes instead of wet brakes.
Distribution
Getting Volvo's dealer network on board was critical, Quinn says. Seven dealers, selected by geographic location, customer size and capabilities, have been part of a pilot group since the beginning of 2013. Two things were key, Quinn says. "We needed to make sure we could do it right, and that there was a valid business case for Volvo and its dealers."
To create that business case, Quinn says Volvo is using "more of an Amazon-type model than bricks-and-mortar structures," centralizing their parts inventory. They also made the decision to just offer two models at first, even though SDLG makes several types of machines, including excavators, backhoes and graders. A 3.5-cubic-yard loader will likely be next in the lineup, Quinn says.
Having the ready-made Volvo dealer network gives SDLG a huge leg up over its Chinese competitors, Quinn says. "We have the distribution that so key to the North American market." Volvo Financial Services will handle customer financing in the near term, with plans to create a SDLG finance arm in the future.
Success elsewhere
The machines' debut here comes out of SDLG successes in Brazil and Australia, Quinn says. "We looked at who's buying SDLG machines in those two areas and why. In both markets, the primary driver was the size of the customer. These are customers that typically buy used machines."
In both markets, the crossover between SDLG and Volvo loader buyers was less than 5 percent, Quinn says. And so participating dealers are typically using different personnel to approach potential SDLG buyers.
Using industry data from Equipment Data Associates, SDLG targeted potential North American buyers when researching the initiative. Rather than looking at Volvo's existing customer base, the company tracked both used and new equipment purchases from contractors with smaller fleets, Quinn says. (EDA is a division of Equipment World's parent company, Randall-Reilly.)