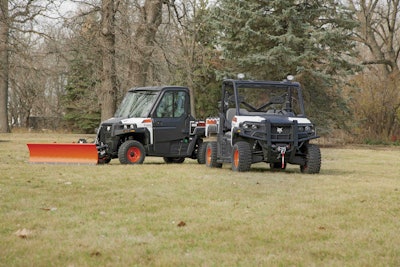 Georgia Boot has launched its annual "Walk in Our Boots" sweepstakes and the grand prize is a 2013 Bobcat utility vehicle. Bobcat announced the launch of its 3600 and 3650 utility vehicles yesterday.
The contest runs from March through September and offers a pair of Georgia Boots, a Comfort Core Logger t-shirt and Georgia Boot cap in addition to the UTV. One customer and one sales associate will be picked to win the grand prize which has an estimated value of more than $16,000.
"Georgia Boot consumers work hard in their boots on the job site, but they work just as hard at home. We thought we would offer a grand prize this year that truly helps our consumers get the job done," said Jordan Gottke, marketing manager for Georgia Boot.
But even if you don't win the UTV, there's still plenty of reason to enter. First prize in the sweepstakes includes a VIP experience for two at the Oct. 12 NASCAR Sprint Cup race at Charlotte Motor Speedway, a day of dirt track driving school with drivers Clint Bowyer and Steve Francis and a free pair of Georgia Boots along with a Comfort Core Logger t-shirt and branded cap. The total value of first prize is approximately $2,000.
Consumers can can enter online at www.GeorgiaBoot.com/sweeps and retail associates will be able to enter online at www.GeorgiaBoot.com/dealersweeps each time they sell a pair of Comfort Core Logger boots in their participating store.