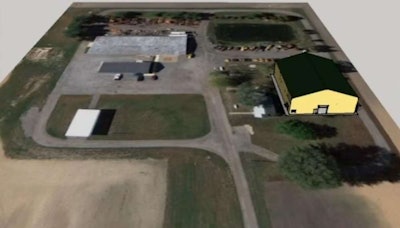 The Historical Construction Equipment Association (HCEA) may soon build a new multipurpose building for storing donations and volunteer­-restored machines at its museum and archives grounds in Bowling Green, Ohio.
HCEA stated on its website that it has no more storage space in its museum and archives, and will have to store future donations and volunteer­restored machines outside.
The association is working on a solution, and one proposed plan is a new multipurpose building. If constructed, the 80­ x 20-­foot building will feature two levels: an 8,000-­square-foot ground floor and a 5,000-­square foot mezzanine level.
The ground floor will house the museum restoration shop, while the mezzanine will be used for parts storage and an archives annex.
The ground floor features a 900-­square-foot paint shop with an exhaust system and compressor; a paint storage and mixing room; a machine shop; a parts and hardware room; an office with a bathroom; filing storage for equipment manuals; a computer desk and a break table.
The mezzanine includes 3,500 feet of open storage for parts and hardware and an enclosed 1,500­-square-foot archives storage annex with temperature and humidity control.
HCEA anticipates moving the restoration shop from the museum to a new building will increase museum display space by 60 percent. Watch the video below for a tour of the proposed facility.
[vimeo 46256437 nolink]