The big show is fast approaching, and ConExpo exhibitors have given us a sneak peek into what they'll have in store for those attending the March 7-11 massive exhibition. To view previous preview entries for ConExpo 2017 click here. Here's the spotlight on three exhibitors in the Central Hall:
Atlas Copco, booth C-31486

Atlas Copco will showcase several new products, including the F1200C compact track paver, which has a laying capacity of 330 tons per hour. Equipped with a V240VE screed, the machine can be used in a wide range of jobs, including cycle paths, sidewalks, repair work, parking garages and sports fields. Featuring a 4-cylinder Tier 4 Final Deutz engine, the machine can pave up to 10 inches thick and 10 feet wide. Improved long tracks and hydraulic motors give the unit a fast transport and working speed. A 5.5-ton capacity hopper offers advantages in tight areas where refilling is a problem.
Other equipment on display: HiLight V5+ light towers, the R TEX pneumatic breaker and Next Gen bucket crusher.
Thunder Creek Equipment, booth C-22521

Multi-Tank Trailers (MTT) legally transport bulk diesel on the road without requiring drivers to maintain a CDL or HAZMAT endorsement. Available in 460-, 690- and 920-gallon capacities, the MMT also includes bulk diesel exhaust fluid storage and dispensing solutions. Diesel is isolated in four, six or eight separate 115-gallon DOT-compliant non-bulk tanks. These tanks are joined by a manifold to a common pump, creating isolation during transport and controlled dispensing of fuel at the jobsite.
Other equipment on display: The redesigned Service & Lube Trailer, capable of holding 440 gallons of fluid in up to eight tanks.
Bair Products, booth C-22032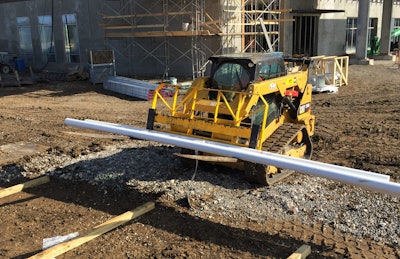 Super Forks offers a utility carrier with an extra wide frame to safely move large and long pipe, in addition to large flat sheets of material. Hauls pipe both horizontally and vertically.
Other equipment on display: Bair's full undercarriage parts inventory for Cat, ASV and Terex compact track loaders.
ESCO, booth C-20505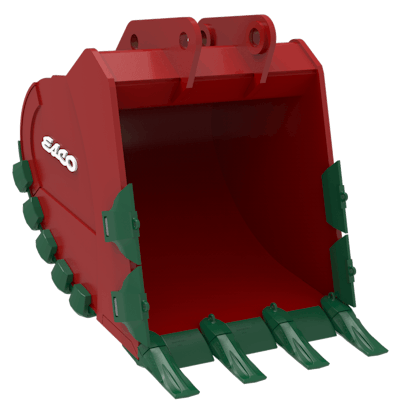 The ESC SXDP Super Extreme Duty Plate Lip excavator bucket features an extreme duty wear package. This package includes double cast shrouds on each wing, cast corner wear shoes (heel bands), cast weld-on lip shrouds, chisel points for penetration and strength and an AR400 horizontal wear kit and vertical wear pads.
Other equipment on display: The Flat-bottom HDP excavator bucket, general purpose bucket for wheel loaders, MaxDRP OEM replacement products and Ultralok construction tooth system.