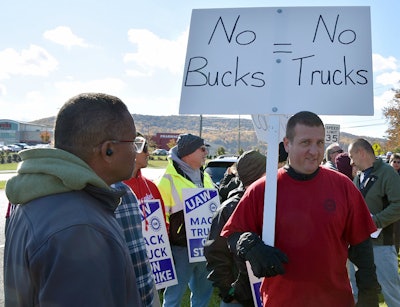 UAW
United Auto Workers (UAW) members ratified a new five-year collective bargaining agreement Wednesday night, ending a 39-day work stoppage at Mack Trucks facilities in Pennsylvania, Maryland and Florida. Employees will report back to work Monday, Nov. 20 for their usual shift.
Mack Trucks' UAW members, roughly 3,900 Mack employees, had been on strike since Oct. 9, just more than a week after UAW leadership agreed to a tentative deal that would have avoided the work stoppages – a deal those employees shot down by a 73% margin. The new deal passed Wednesday night by 93%, according to UAW.
"The new agreement guarantees significant wage growth and delivers excellent benefits for our employees and their families," Mack President Stephen Roy said via statement Wednesday night. "At the same time, it will safeguard our competitiveness and allow us to continue making the necessary investments in our people, plants and products."
UAW leaders called the Oct. 1 tentative deal a "record" win for its membership. Even as negotiations dragged on Mack held tight to those benchmarks, offering an average wage increase over five years of 36%, with an average immediate wage increase for all covered employees of nearly 15%. For employees not yet at the top rate (nearly half the total workforce) the average increase over five years would be 55%, and the average immediate wage increase would be more than 20%. Most employees already at the top rate would receive an immediate wage increase of 10%, and up to 20% compounded over five years, even though company research shows that these employees are already above market rates, Mack Trucks said.
Premiums for the company's healthcare coverage, which have not increased in more than six years despite a 66% increase in the company's costs over the last decade, according to Mack Trucks, remain unchanged for five more years.
Nearly three weeks ago, UAW reached "historic" tentative agreements with Ford Motor Company, General Motors and Chrysler-parent Stellantis. Locals are in the process of ratifying those deals, and while some races are closer than others, particularly among GM employees, thus far the majority have voted in favor of ending the strikes.