Equipment World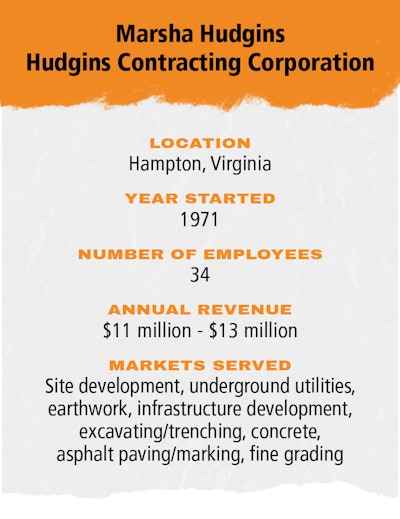 For more than 30 years, Marsha Hudgins had a successful career as a business consultant and practitioner in the healthcare industry.
She was ready to ease into retirement when her husband, Lester – founder of Hudgins Contracting Corporation – was diagnosed with pancreatic cancer.
Lester pleaded with Marsha from his hospital bed, "Please don't shut the business down."
He had started Hudgins Contracting Corporation in his late 20s, seeing it through the ups and downs of building booms and recessions. And after nearly 40 years of successful operation – and for the sake of his loyal employees, he couldn't bear to see it end with his life.
Marsha agreed to carry the business forward. And sadly, within a year of his diagnosis, Lester lost his battle with cancer.
"We had his service on Friday, and she walked through the door on Monday, and she's never left," recalls Hudgins' President Pam Kelly.
But despite knowing many of the employees for decades, Marsha wasn't met with the support she was expecting as the wife of the founder and the incoming CEO. "They did the man thing and tried to see if they could chase me off," she says. "I wasn't trying to take over for them because this is not something I had planned."
During those first few years at the helm, Marsha leaned heavily on mentors and advisors to learn the ins and outs of the blue-collar business. She credits Johnny Lawson of WM Jordan, an area general contractor, and CPA Jerry Sullivan as the muscle she needed in early meetings with less-than-helpful staff and vendors.
"I love a challenge, and this was a challenge," she says. "I can say it with a smile now because I've forgotten the pain."
That was more than a decade ago. Since then, Marsha has excelled at leading the $11 million to $13 million, Hampton, Virginia-based firm and its 34 employees. Hudgins specializes in government and private commercial site preparation and infrastructure construction.
Tapping into her consulting background, Marsha took a deep dive into the business operations, breathing new life into fleet management and talent acquisition.
"[Lester] had a different belief system than I did about how companies should operate. He squeezed every nickel because he didn't have a lot of capital to start with," she says. "It took years to make that evolution, but now we have asset and people management that is much more efficient and less costly."
Now armed with an upgraded fleet of equipment and top-notch employee development and safety programs, Hudgins is ready to tackle the next 50 years in business. For these reasons and more, Hudgins Contracting was named as one of 12 finalists for Equipment World's 2023 Contractor of the Year program.
Employees First
"We have two things we value: our people are number one and then it's our equipment," Marsha says. "Those are our biggest investments and most important assets."
The company offers extensive cross training and will pay for continuing education for its employees. This has enabled field employees to move up the ladder or into office roles and build a career for themselves, not just a job.
"We give our talented people the opportunity to grow. There's space for them to move up and to explore their goals for themselves," Marsha says. "Our people are who we are. It's every person who puts on a Hudgins hard hat or sits in an office."
The work Hudgins performs on federal projects comes with stringent safety and personnel rules. Because of that, the company also invests heavily in safety training and protocols. Employees must pass a background check dating back to age 18 and drug screening to work on a government site. In addition, the Hudgins conducts random quarterly drug tests.
Site superintendents enforce safety best practices daily, and a third-party inspector conducts monthly random site inspections. Those inspections have opened up additional opportunities for employee training.
"Our goal when we introduced the monthly random site inspections was not to punish but to educate," says Pam. "If the inspector sees something, he will send it up to whoever is in charge that day and talk about it. We make changes on a dime to address issues. Safety is our thing; it has to be."
Annually, all employees undergo OSHA 10 and OSHA 30 training, whether they are up for renewal or not. Twice a year, the company rents out a hotel ballroom and holds a companywide networking and safety event. Safety presentations from outside experts and hands-on training – including CPR, OSHA "competent person" and confined space training – are conducted.
Weekly toolbox talks are performed on each jobsite, and some sites have added team calisthenics to the start of each shift. Beyond jobsite safety, the also company offers an employee assistance program to address mental and emotional well-being.
"If you've got a good employee, a hiccup in their life is temporary," says Pam. "You will get them back, and you will get them back with a greater sense of loyalty if you take care of them."
"In the long run, it's so much better and healthier to have that relationship with them," adds Marsha.
Hudgins took home Equipment World's 2023 Safety Award, presented at the Contractor of the Year Award program, and is a multiple-time winner of Associated Builders and Contractors' National Safety Excellence Award.
Equipment Second
Before Marsha entered the business, most of Hudgins' equipment was purchased at auction.
"It was always about keeping it on the road, and it's 'free' if it's paid off," she said. "That's not my philosophy."
So, Marsha turned Ben Silver loose to manage the company's fleet and develop a robust asset management program. He's implemented preventative maintenance and equipment disposition programs to ensure Hudgins' fleet is always ready for action.
"Slowly, Ben helped me switch those older pieces out and have a real plan of how and why we replace things and what we replace them with," she said. "He knows about what's new, what's coming to market and can diagnose a machine from 20 paces out. He's extraordinary."
Weekly and monthly, the team analyzes telematics data, machine hard costs and soft costs to ensure they are making strategic equipment decisions. "The economy and supply chain issues over the past few years have caused us to be uber-efficient if we weren't before," says Marsha. "Now we really have to dig into different ways of saving money without cutting the quality of our work. Telematics saves us so much time, effort and money.
The company employs two full-time shop technicians and a field technician to handle routine maintenance and repairs of its 10 excavators, four bulldozers, three backhoes, two wheel loaders, dump trucks, pickup trucks and trailers. Any machine issue is logged with a service request, which keeps the shop organized and efficient.
"Any small item, large item, anything is logged on the service request list. I work off of that every day so I can see what needs attention, and we act from there. Once that repair is complete, it generates an invoice which is attached to an asset file for that piece of equipment," Ben says. This allows the company to see what the downtime and repairs cost in real-time.
That focus on proactive asset management has impressed Chris Hughes of WM Jordan Company, a general contractor that does business with Hudgins. "Every time a piece of Hudgins equipment arrives on the site, it's in good working order," says Hughes. "Hudgins always maintains a good positive image with their equipment and brand by always putting their best foot forward. They're team players who work cooperatively with other trades onsite."
The Contractor of the Year program, which Caterpillar has sponsored since its inception, recognizes contractors who display the highest standards of business acumen, equipment management expertise, attention to safety and community involvement. Each year, 12 finalists receive an expense-paid trip to Las Vegas to participate in roundtable discussions and an awards ceremony.
For more information, visit https://www.equipmentworld.com/contractor-of-the-year.