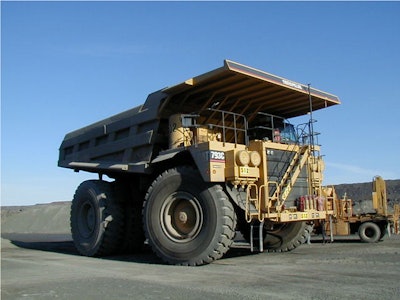 Goodyear Tire and Rubber Wednesday morning said, as part of a strategic overhaul to improve profitability, the company will sell its off-the-road equipment tire business, along with its chemical business and its Dunlop brand.
"Our transformation plan represents a clear path to create a more profitable and focused Goodyear," said Goodyear Chairman, CEO and President Richard J. Kramer, who will step down at year end.
For off-the-road applications, Goodyear sells specialized tires in the mining and construction industries for a variety of equipment types, from articulated dump trucks to underground mining equipment.
"We lack the scale of our largest competitors, which are four to five times larger," said Christina Zamarro, Goodyear Tire and Rubber Company chief financial officer, adding the financial investment needed for Goodyear to catch up in this segment was cost-prohibitive.
Goodyear's chemical business develops and sells synthetic rubber compounds for industrial applications, including pliogum, a Kosher and Halal food grade polymer used as food can sealant and in chewing gum.
Goodyear's Dunlop brand primarily sells high-performance passenger vehicle tires, with particular strength in Europe, and is in a crowded parent-company portfolio that includes the Kelly Springfield Tire Company and many other brands. As of 2021, the product stable also includes the Cooper Tire and Rubber Company, which is emerging as Goodyear's mid-tier priority. Sumitomo Rubber Industries in 2015 acquired the Dunlop Motorcycle tire brand in North America from Goodyear following the dissolution of a 16-year global joint venture.
A potential sale of the three business units, Kramer said in a presentation to investors Wednesday morning, could bring in excess of $2 billion, slightly more than half of which – and having the largest impact on North America – comes from the chemical arm.
Goodyear's business path forward, Kramer said, will lean heavily on its technology capabilities, its position as a provider of premium tires, and will also hinge on growth in Goodyear's retail footprint.
"We are rapidly expanding retail volume with mega fleet customers," Zamarro noted, adding the growth was driven by last mile and direct-to-consumer carriers.