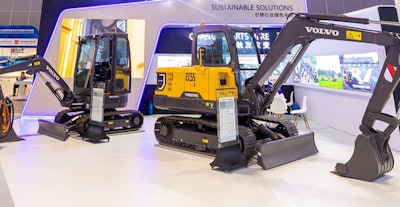 Volvo Construction Equipment
Despite a challenging economic environment, Volvo Construction Equipment maintained strong growth in the second quarter of 2023, posting a 12% increase in sales over the same period last year.
Sales of machines and services rose across all markets except South America and Asia. Volvo CE's net sales increased to 28.9 million SEK, compared with 25.8 million during the same quarter in 2022.
The company says order intakes declined by 41% in global markets, reflecting continued weakness in China, restrictive order slotting in North America and cautiousness among customers and dealers in Europe. Deliveries also fell 24%, due to the decreased demand in China and a slowdown in Brazil.
Leading the way in global demand was North America, Europe and Africa. Large infrastructure investments and strong commercial construction brought 9% growth in North America, while Europe saw steady progress in Europe (4% year-to-date increase), overcoming a weaker macroeconomic outlook, elevated inflation and higher interest rates.
As seen in Q1, weak business confidence among customers continued to drive down sales in South America (24% year-to-date decrease), and the Chinese market continued to have a significant negative correction (a 40% year-to-date drop) due to the prebuy effect related to the emissions regulations change at the end of last year. Development in Asia outside China however was largely positive due to growth in India and the Middle East.
During the second quarter, Volvo CE announced the creation of a new dedicated business unit for compact equipment and continued its global rollout of electric compact machines, with launch events in Singapore and Tokyo.
"Our ability to push innovation across construction with solutions for today and tomorrow, while performing well with continued financial growth and improved profitability will ensure we lead the way for years to come," said Melker Jernberg, president of Volvo CE. "The economic development may be having an effect on the overall construction equipment market but we are focused on leading a sustainable and profitable transformation for the benefit of our customers, our shareholders and society as a whole."
Positive results aside, Volvo CE says ongoing cost inflation and supply chain disruptions will continue to create a challenging economic environment for the industry in the months ahead.