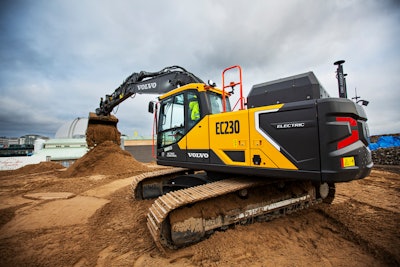 Volvo Construction Equipment
WM, formerly Waste Management, will be among the first customers in the U.S. to test Volvo Construction Equipment's 23-ton EC230 Electric excavator.
The mid-size excavator, which is not commercially available yet, will perform the same tasks as WM's diesel excavators at a facility on the East Coast. WM will track data and share feedback with Volvo CE. Customers in South Korea and China have already tested the machine.
Volvo CE says after customers test the machines in various applications on the North American power grid in 2023, it will make the excavator available for purchase in North America in 2024.
"This is the first pilot in North America, but the EC230 Electric excavator has been thoroughly tested by customers overseas, and in each case, it has offered the same performance as its diesel equivalent with the added benefit of no direct emissions," said Stephen Roy, president of Region North America, Volvo CE. "We're excited to work with WM on a project that aligns with both of our organizations' values of being good environmental stewards."
For more than 20 years, WM has been a champion of alternative fuel options, including compressed natural gas and electric vehicles as well as other technologies, to help reduce overall emissions. WM aims to reduce its overall Scope 1 and Scope 2 GHG emissions by 42% by 2032.
"WM has a long track record of incorporating alternative fuels into our operations, and we're exploring technologies like electric that support our mission to reduce emissions," said Bryan Tindell, vice president of disposal operations, WM. "We have a longstanding relationship with Volvo CE when it comes to working toward sustainable solutions related to alternative fuels and energy sources. This electric excavator is expected to improve machine uptime and increase productivity, and our pilot could help map out the next steps for implementing additional electric and other sustainable technologies into our heavy equipment fleet."
Zero Emissions Excavation
Designed and built at the Volvo CE facilities in Changwon, South Korea, the EC230 Electric has the same digging forces and lifting capacities as the EC220, the diesel-powered equivalent in the Volvo CE lineup.
It is powered by four 66-kilowatt lithium-ion battery packs, resulting in zero direct emissions, less noise, reduced maintenance and lower total cost of ownership, Volvo says.
The EC230 Electric will join six other machines in Volvo CE's lineup of electric equipment.
"Electric construction equipment thus far has mostly been compact models, but to make the kind of progress we want toward a more sustainable future, larger machines need to be part of the equation," Roy said. "Volvo CE is proud to be leading the industry into that future along with sustainability driven companies like WM."
The EC230 Electric excavator made its North American debut at ConExpo-Con/Agg in March. The WM pilot project was announced at Waste Expo in Louisiana and ACT Expo in California in May.