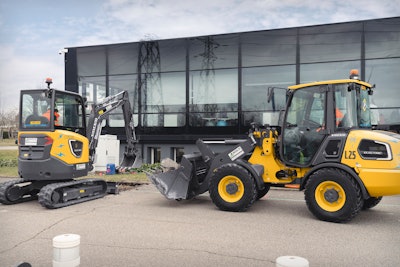 Volvo Construction Equipment
Volvo Construction Equipment has announced that it is elevating its compact equipment segment to become its own business unit focusing on maximizing profitability and growth in the booming compact equipment market.
The Compact Business Unit will operate as an independent entity within Volvo CE, responsible for compact excavators up to 9 tons and compact wheel loaders up to the L50 model.
Thomas Bitter, Volvo CE's current head of technology, will transition to the role of head of the compact business unit, in September 2023. Bitter, along with his team of current Volvo CE employees and external talent, will oversee the entire value chain for the compact offering, including development, assembly, purchasing and the go-to-market strategy with the existing distribution network.
Volvo CE says it aims to take advantage of the shift to electrification in the compact equipment segment and lead the industry's transformation with a fully electric lineup of equipment and solutions across the product range.
"Our pioneering work in electrification and digitalization has positioned us as an innovator in compact equipment. And now because of compact equipment's ever-growing influence on the market, we are focusing our attention on our compact machine portfolio to provide customers with productive and sustainable products and services," says Bitter. "The people who join us in this journey will not only develop specialized skills in this important area but be playing an integral role in our wider purpose of building the world we want to live in."
In 2019, Volvo CE announced that it would stop developing diesel-powered compact machines to shift its entire range to electric. The company has since launched five electric compact models: the ECR25 Electric, ECR18 Electric and EC18 Electric excavators and the L20 Electric and L25 Electric wheel loaders. The EC55 Electric excavator has also been introduced to China.