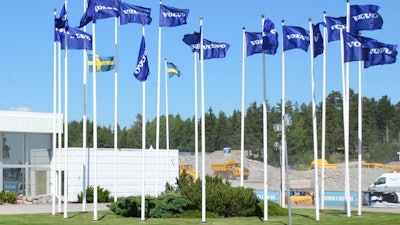 Volvo Construction Equipment
Volvo Construction Equipment announced on June 14 that it would move the company's global headquarters from its current location in Gothenburg, Sweden, back to its birthplace in Eskilstuna, Sweden.
None of Volvo CE's 17 other global facilities will be impacted by this announcement, nor will employees be required to move their current locations to Eskilstuna, the company says. The new construction equipment headquarters will be operational by August.
Volvo CE has had a presence in Eskilstuna since 1832, tracing its roots back to a mechanical workshop established by Theofron Munkell. The site was later converted into a tractor factory, and today is home to the Volvo CE's Customer Center, Technology Center, the Munktell Museum, and around 2,500 employees. Volvo expanded the Center in 2021 with an R&D testing and demonstration area for sustainable power, connectivity and autonomous solutions.
Volvo CE says the move will enable increased collaboration with local educational, social and business hubs – such as Mälardalen University, with whom the company already works closely to develop future engineering talent.
Volvo Group headquarters will remain in Gothenburg and Volvo CE will continue to collaborate with the corporate headquarters on projects and partnerships, the company says. Eskilstuna is less than five hours from Gothenburg and near the Vasteras and Arlanda international airports.
"With the rapidly changing environment we are living in and the culture we are building, it is a great opportunity to be present at one of our largest global sites. Having our headquarters here will strengthen our collaboration with local educational, social and business hubs, and bring us closer to our operational work. We will of course continue the great and important collaboration with our colleagues across the entire Volvo Group, as well as with our worldwide partners," says Melker Jernberg, head of Volvo CE.
"Volvo CE has had a presence in Eskilstuna from as far back as 1832 and it has always played an important role in the local community. We see this decision as boosting Eskilstuna's image as an attractive business location for companies from Sweden and abroad," adds Jimmy Jansson, chairman of the executive board of Eskilstuna Municipality.
The announcement comes exactly one year after Caterpillar announced it would move its global headquarters from Deerfield, Illinois, to Iriving, Texas, with the company also citing access to talent as a key reason for its move.