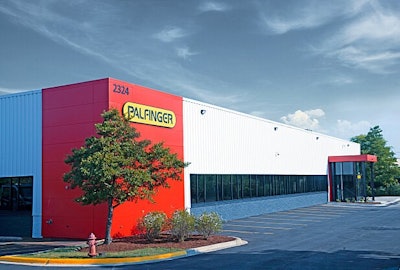 Palfinger
As a result of rapid growth in their sale of crane and lifting equipment in North America, Palfinger has opened a new regional headquarters in Schaumburg, Illinois.
Palfinger says the U.S., Canada and Mexico market significantly contributed to the company's record revenue of $2.4 billion in 2022, with truck-mounted forklifts as the top revenue driver.
"We are here to stay and grow. Led by our strong focus on our customers, we will use the next five years to significantly increase our North American market share in all product segments and show what we are capable of," says Palfinger CEO Andreas Klauser.
The company has made a $4 million investment into its new building, which features an integrated training center with classroom space for up to 90 people, a demonstration area for product operation and service training, and virtual-reality training stations.
Schaumburg was selected as the headquarters for its international accessibility and reputation as a technology hub and the state's second-largest economic sector outside Chicago.
Ismael Daneluz, vice president of Sales & Service Region North and Latin America, explains: "Our new headquarters reflects our commitment to Palfinger's second-largest market. The goal is to serve our customers even better than before, strengthen our market presence and further expand our activities in North America."
The Schaumburg facility opening supports the company's strategic goal to become North America's top crane and lifting solutions provider. Palfinger has been active in North America since 1989.