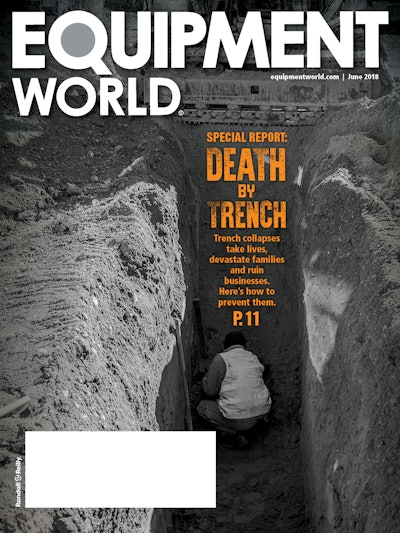 The staff of Equipment World has won a Jesse H. Neal Award for its June issue, featuring the cover story "Death by Trench."
The award, "Best Single Issue of a Tabloid/Newspaper/Magazine," was given during the 65th Annual Jesse H. Neal Awards, held in New York City. The awards are presented by Connective, The Business Information Association, a division of SIIA.
"Death by Trench" examined the human side of trench fatality statistics, and looked at how trench collapses deliver devastating blows to both families and construction businesses. Editors recounted tales from survivors and first responders, and also detailed trench fatalities during a two-year time period, pointing out that no age group was immune to succumbing to lax jobsite trench protection practices.
The "Death by Trench" special report was also named a Neal finalist in the "Best Subject-Related Package" category.
A panel of 12 judges reviewed the 199 Neal Award finalists to select winners in 21 editorial categories. Commenting on the finalists David Longobardi, chair of the Neal Awards and chief content officer for Source Media, says "the depth of coverage, energy and innovation of the finalists was impactful, and testimonial to how critical B2B media and information journalism is to capturing the business stories of our times."
Judges commenting on the Death by Trench award, said, "This special issue offers a comprehensive look at both the causes and consequences of trench collapse on heavy construction sites. The editors offer a heartbreaking, first-hand account of the human loss, as well as practical advice to prevent future accidents."
The Jesse H. Neal Awards were created in 1955 by American Business Press, now Connectiv, to recognize editorial excellence in business media.