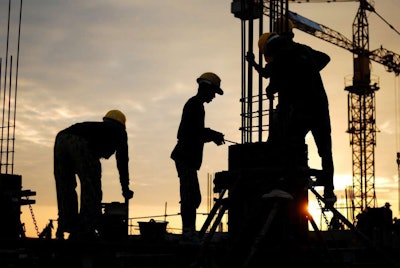 The Associated General Contractors of America Wednesday came out in favor of a bill that would establish a temporary visa program for construction workers and other industries.
Stephen Sandherr, AGC's chief executive officer, urged Congress to act quickly on the Workforce for an Expanding Economy Act, introduced Wednesday by Pennsylvania Congressman Lloyd Smucker.
"The shortage of available, qualified, workers in many parts of the country threatens to undermine continued economic growth," Sandherr says, noting that 80 percent of construction firms reported last year they were having a hard time finding qualified workers to hire.
The AGC has long advocated for a temporary worker visa system that allows for more workers during periods when labor is scarce but lowers the number of visas during slower economic cycles. "Creating a temporary, flexible, worker visa system will allow all types of economic development to proceed without costly delays caused by workforce shortages," says Sandherr.
Reducing illegal immigration will also create a more viable path for qualified construction workers to enter the country when demand rises and leave when demand subsides, says Sandherr. "This measure will help put an end to an immigration system that creates too many incentives for workers to illegally enter the country," he says.
How the program would work
According to Rep. Smucker's office, these visa workers would only be allowed to work for an approved employer at the approved location for a specifically approved job.
The bills co-sponsor, Rep. Francis Rooney of Florida says "Employers would be required to prove they were unable to find American workers for vacant positions, pay them fair wages based on local wage data and use E-verify to make sure only legal immigrants are hired. This would greatly benefit the construction and hospitality industries which are facing severe worker shortages."
According to Smucker's office, an employer can only apply if the unemployment rate is equal or less than 4.9 percent This was chosen to protect U.S. workers to ensure they have access to available jobs first.
In the event the unemployment rate ticks back up, language is included in the bill stating an employer will be ineligible to renew an existing permit if they are no longer in an area that is considered a "full employment area" as defined in the bill.
In other words, an employer can file for the worker if they are at full employment in the area. If over the ensuing three years, the economy changes, they don't have to fire the worker the minute the unemployment rate goes up, but they cannot renew their status as an employer allowed to hire these workers. This language is also intended to protect U.S. workers as the labor market contracts. Individuals will be able to work until the time on their visa expires, at which point they will have to return to their home country.
But in the construction industry there is a hot debate on whether immigrants depress wages and thus make construction jobs less attractive to native born Americans. On the other hand, many others wonder whether young, native born Americans are just too soft to tackle the rigors of construction.
Will the program work?
President Trump and some worker advocates in the past have been critical of attempts to boost construction employment through immigration, legal or not.
"We've seen significant reductions in wages for blue-collar workers, massive displacement of African-American and Hispanic workers, as well as the displacement of immigrant workers from previous years who oftentimes compete directly against new arrivals who are being paid even less," said Stephen Miller, a senior policy advisor in the Trump administration, according to a report from National Public Radio.
A 2017 article from the Los Angeles times titled "Immigrants flooded California construction. Worker pay sank. Here's why," noted that in 1972 L.A. construction went "from an industry that was two-thirds white and largely unionized to one that is overwhelmingly Latino, mostly non-union and heavily reliant on immigrants." During this time wages declined from $32 an hour to $27 an hour, adjusted for inflation.
Despite a number of studies of this issue, most economists think the data is inconclusive. The only point of agreement they find is that immigrants might depress wages at the low end of the scale, which means unskilled workers. Two relevant statistics stand out from a recent study by the Center for Immigration Statistics:
The findings indicate that immigration is likely to have contributed significantly to the decline in wages for workers with only a high school degree or less in the last two decades.
The presence of immigrants does not appear to have a discernible negative effect on the wages of natives employed in high-skilled occupations and may even increase wages in these occupations.
And with unemployment figures sitting at 4.4 percent and a shortage of construction workers affecting all areas of the country, construction companies are between a rock and a hard place. Even if they raise wages it is uncertain if enough people with the right work ethic and skills will apply.
The AGC has reported that 79 percent of construction firms plan to add workers in 2019. And according to the Bureau of Labor Statistics, construction companies have been trying to fill 225,000 jobs since the beginning of 2018.
Many contractors Equipment World has talked to over the years say a big part of this problem is finding native born Americans who have the stamina to do entry level construction work and who can pass a drug test—especially when it comes to marijuana.
Companies that contract with the federal government must have in place drug-free workplace programs that include random, periodic drug testing of all employees. And that includes every contractor, from the company that paints the stripes on the parking lot to those who build top secret nuclear facilities. Even in states where marijuana is legal, there are no exceptions.
Likewise, federal regulations regarding Commercial Drivers Licenses (CDLs) require companies with trucking assets to regularly screen for marijuana use and other drugs and immediately suspend anybody who tests positive.