If you are managing a large fleet of equipment with a spreadsheet or other antiquated methods, you might be interested in a new offering from Richie Bros.
Although best known for their auctions, Ritchie Bros is now offering RB Asset Solutions, what the CEO Ravi Saligram describes as an "end-to-end asset management and disposition solution intended to cement strategic partnerships with OEMs and their dealers and large enterprise-wide national and global accounts."
In other words, RB Asset Solutions stands up e-commerce websites into which OEMs, large companies, rental houses, leasing/financial organizations and dealers can plug in their inventory of equipment.
Once they've built your custom branded website you can list your equipment for sale, link it to Ritchie Bros and IronPlanet auction sites and sales channels, set up private sales, manage lease returns or trade assets within your company's branches. And the RB Asset Solutions websites will also integrate with your organizations back office ERPs.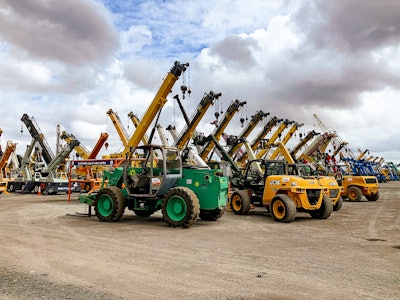 The mobile-friendly website also gives users a lot of the data analytics and capabilities Ritchie Bros. offers with its own online auction sites. Users can inspect equipment and upload photos and information to the inventory management system through a mobile app, and if desired, hire Ritchie Bros.'s asset appraisals team to do inspections.
The site will also give you access to price indicators, depreciation curves and market and seller trends to make sure you're accurately pricing and valuing the equipment on hand.
"Our larger sellers wanted more than just selling solutions, says Matt Ackley, senior vice president. "They wanted technology, they wanted data. So we brought all our technology and services together to create an end-to-end asset management solution for them. The tools and services included will help customers understand and optimize the value of their equipment. Customers can access data analytics to help them choose the perfect time to sell their assets—selling though their branded e-commerce site or one of Ritchie Bros. sales channels," he says.