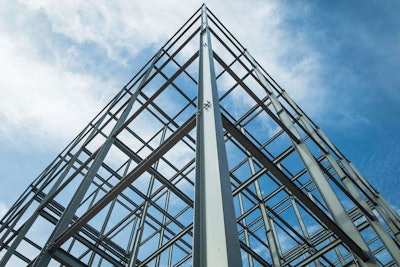 Contractors are becoming more concerned about the effect of increased tariffs on steel imports, according to the June 5 Commercial Construction Index.
The index shows that 63 percent of responding contractors in the second quarter of 2018 identified steel price fluctuations as their top material concern, up from 35 percent in the first quarter, according to the index compiled by Dodge Data & Analytics for the USG Corporation and the U.S. Chamber of Commerce. And 86 percent said the recent tariffs will have "at least a moderate impact on their business."
The CCI also showed that about 90 percent of responding contractors are concerned about the labor shortages. The 90 percent concern rate has held steady for the past four quarters.
"The commercial construction industry is vital to the growth of the U.S. economy. Steel and aluminum tariffs and continued workforce shortages threaten to slow the industry's growth and job creation," said Thomas J. Donohue, president and CEO of the U.S. Chamber.
The Trump administration imposed tariffs on steel and aluminum imported from Canada, Mexico and the European Union on May 31. The previous threats of tariffs by the administration over the past three months have led steel prices to rise, according to news reports.
Contractors still optimistic
Despite concerns about tariffs and labor shortages, the overall CCI score was 73, down one point from the first quarter. That shows contractors continued to have a strong national economic outlook in the second quarter, say Dodge analysts.
Highlights from the report:
Contractors hold an average of 9.3 months backlog, up from 8.9 months in the first quarter. "This represents 73 percent of ideal backlog levels and indicates a stable market with room for growth."
96 percent of contractors report high or moderate confidence in the demand for commercial construction for the next 12 months.
52 percent expect to see revenue gains in the next year, an increase of 12 percent year-over-year.
56 percent of contractors report registering or certifying their U.S. projects with the U.S. Green Building Council (USBGC) or Leadership in Energy and Environmental Design (LEED) over the past three years. Four out of five contractors also cite that their customers request energy efficient materials for their U.S. projects.