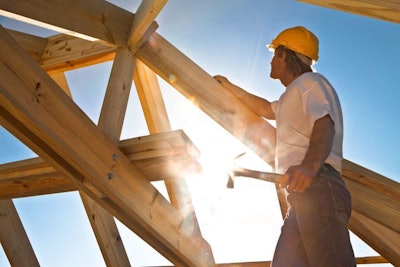 After March saw a jump in multi-family home starts fuel growth among total U.S. home starts, a sharp decrease in multi-family starts in April has led to a 3.7-percent decline among all starts.
Home starts fell to a seasonally adjusted annual rate of 1.287 million homes, according to preliminary data from the Commerce Department.
Following March's 16.1-percent jump, multi-family starts fell 12.6 percent in April to a rate of 374,000. However, multi-family starts remain 19.1 percent above the April 2017 rate.
Single-family starts were nearly flat in April, up 0.1 percent to a rate of 894,000. Single-family starts are 7.2 percent above the April 2017 total.
Building permits, a good barometer of where the housing market is moving, fell 1.8 percent in April to a rate of 1.352 million. Permits are 7.7 percent above the April 2017 rate.
Builder confidence in the housing market, measured by the NAHB/Wells Fargo Housing Market Index, rose to an even stronger level in the latest index. The May report fr0m the NAHB shows confidence rising two points to a reading of 70. Any reading above a 50 indicates most home builders believe market conditions are good.
"The solid May report shows that builders are buoyed by growing consumer demand for single-family homes," said NAHB Chairman Randy Noel. "However, the record-high cost of lumber is hurting builders' bottom lines and making it more difficult to produce competitively priced houses for newcomers to the market."
"Tight housing inventory, employment gains and demographic tailwinds should continue to boost demand for newly-built single-family homes," added NAHB chief economist Robert Dietz. "With these fundamentals in place, the housing market should improve at a steady, gradual pace in the months ahead."