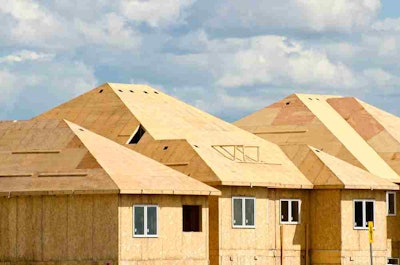 Total spending on construction projects in the U.S. rose 1.8 percent during the month of April, according to the latest Commerce Department data.
Construction spending rose to a seasonally adjusted annual rate of $1.31 trillion and is now 7.6 percent above the April 2017 rate.
Responsible for the increase was a 4.5-percent increase in spending in the private homebuilding sector. Homebuilders increased their spending by 4.5 percent in April to rate of $556 billion. Spending on single-family homes was flat during April at a rate of $286 billion. Multi-family projects increased spending by 3.6 percent to a rate of $62 billion. Single-family home spending is up 9.6 percent over the April 2017 rate while multi-family is 4 percent below.
Spending from the private sector on housing is up 7.6 percent year over year, while the total residential market is up nearly 10 percent.
Total nonresidential spending was flat during April at a rate of $747 billion. Top percentage gains from nonresidential were religious, up 11.2 percent to $3.4 billion; lodging, up 3.6 percent to $32 billion; and power, up 2 percent to $98 billion. Top percentage declines were conservation and development, down 6.7 percent to $8.5 billion; commercial, down 3 percent to $91 billion; and sewage and waste disposal, also down 3 percent to $21 billion.
Nonresidential spending is up 6.1 percent from the April 2017 rate.
Total construction spending from the private sector rose 2.8 percent to a rate of $1.014 trillion, and is up 7.6 percent year over year. Total government spending fell in April 1.3 percent to $296 billion and is 7.7 percent above the year ago rate.