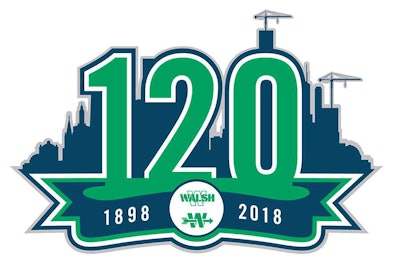 The Walsh Group traces its beginnings back 120 years when Matthew Myles Walsh started a carpentry business out of his home in Chicago in 1898.
Since then, the company has grown to more than 8,000 employees with 18 regional offices. It is a multi-billion-dollar business and ranked the 11th-largest construction firm in the United States, the company says.
In 1983, Archer Western was established in Atlanta, becoming a subsidiary of the Walsh Group, along with Walsh Construction. In 2009, the company formed Walsh Canada, based in Toronto.
The company is now in its fourth generation of family leadership, with Daniel and Matthew Walsh serving as co-chairmen, Daniel P. Walsh as president of Archer Western and Sean Walsh as president of Walsh Construction.
It has expanded well beyond its humble beginnings as a home-based carpentry business. It now considers itself "a construction services provider offering design, build, finance, operation and activation services in the building, transportation and water markets."
Some of its recent projects include rehabilitating the I-480 Valley View Bridge in Cleveland, expanding I-35E in Texas and expanding the White Tanks Regional Water Treatment Plant in Arizona.