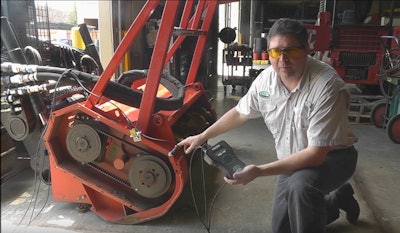 Vibration can be destructive of any machine or moving part, not to mention the aggravation and fatigue it causes in operators. This is especially true in forestry mulchers with their heavy, high-speed rotating heads.
Fecon partnered with RPX Technologies to develop a mobile balancing service for forestry mulching equipment. Originally developed by RPX to balance aircraft propellers, the DynaVibe system is a simple solution to what used to be a complex problem.
"Mobile balancers have been out there, but they've been pretty expensive and kind of hard to use," says Kevin McCann, vice-president of product support at Fecon. "You would typically have to hire or contract that balancing service out to somebody. It's expensive; they have to travel to your job site. Or, our customers would have to take their machines, or the rotors out of their machines, to a company that specialized in balancing. After it was balanced, you have to take it back to the job and reinstall it."
The DynaVibe system gives dealers an easy to use method for balancing mulcher heads at the dealership where the equipment was purchased. And the system can be used on other brands of mulcher heads and other products outside forestry such as tub grinders.
Using an accelerometer to measure vibration and a phototachometer for rpms, the DynaVibe hand-held computer determines vibration magnitude and location, allowing technicians to remove or add weight to the head to restore balance and eliminate vibration.
There are two versions of the hand-held computer. The FMB-100 is the less expensive option and tells you how out of balance the rotor is (magnitude) and where adjustments are needed (phase and angle). The FMB-200 does that and a full spectral analysis, looking at all frequencies to help troubleshoot vibrations other than rotor imbalance, such as a failed bearing or bent shaft.
"Even small magnitude vibrations can cause damage," says Mike Fox, cofounder of RPX. "When we created the DynaVibe system, we understood that keeping propellers balanced would eliminate failures, substantially reduce aircraft maintenance costs, and improve the flying experience. We also understood that the value of our dynamic balancer wasn't limited to aircraft: it was capable of balancing anything that spins."
For more information, check out the video below and visit the Fecon website by clicking here.