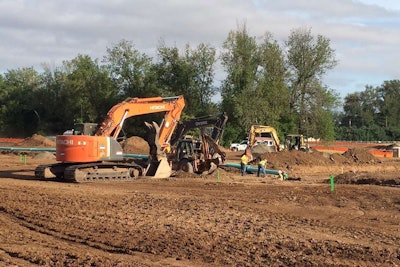 Following two consecutive months of decreases, construction starts on homes in the U.S. jumped 25 percent in October largely due to a huge increase in multi-family starts.
Home starts are at a seasonally-adjusted annual rate of 1.323 million, an increase of 23 percent over the October 2015 level, according to preliminary data from the Commerce Department.
Leading the way was a 75-percent jump in starts on multi-family homes to a rate of 445,000. The rate is up 28 percent over the October 2015 level.
Single-family starts saw a sizable increase as well, up 11 percent to a rate of 869,000. That mark is 23 percent above the year-ago mark.
Building permits, a good barometer of how the homebuilding industry is trending, were up for the month, rising 0.3 percent during October to a rate of 1.229 million. Permits are up 4.6 percent from the October 2015 estimate.
Builder confidence in the market, as measured by the National Association of Home Builders/Wells Fargo Housing Market Index, held steady at a reading of 63 in October. Any reading above a 50 indicates most home builders believe market conditions are good.
"…Builder sentiment has held well above 60 for the past three months, indicating that the single-family housing sector continues to show slow, gradual growth," says NAHB chairman Ed Brady.
"Ongoing job creation, rising incomes and attractive mortgage rates are supporting demand in the single-family housing sector. This will help keep housing on a steady, upward glide path in the months ahead," adds NAHB chief economist Robert Dietz.