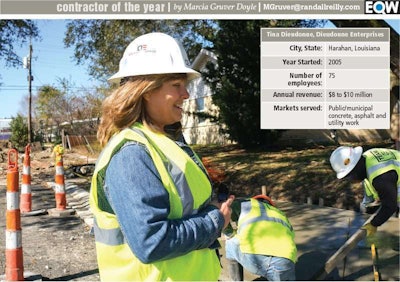 Hurricane Katrina is simply called "The Storm" in New Orleans, and that's certainly a description of what it created in Tina Dieudonne's life.
Her small, tourist-related businesses took a hit in the storm's aftermath, and she realized she needed to look for another opportunity. She found it in the massive rebuilding that consumed the city after the hurricane.
Taking the road and bridge contractor licensing test in 2005 after she formed Dieudonne Enterprises (DE), Tina got her Disadvantaged Business Certification in 2006. She now holds three state licenses, and concentrates, as she puts it, on "making sure the company makes money."
After starting the company in her home, Tina eventually located it at its present location in a suburban industrial park in 2011. DE, which started out doing curb and gutter work and small asphalt jobs, today has added street construction, subsurface drainage and pipework to its resume. The company now has revenues of $8 to $10 million and employs 75 people.
"Miss Tina"
Chad Albert, DE's project manager, who refers to his boss as "Miss Tina," explains the company culture this way: "We have fun. We have a well-rounded group of employees and we've grown big time in the past five years. We're always trying to expand."
In addition to Chad, the company's executive team is rounded out by Ben Perrin and Anthony Dieudonne, Tina's husband. Perrin serves as operations manager and estimator, and Anthony is the firm's field project manager and safety coordinator, in addition to being its equipment manager.
"Communication is important," Tina says. "It's not just one of us, it's all of us. I've brought together guys I can trust," including superintendents Cesar Fonseca and Chris Cowie. DE has six full crews, plus some specialty teams for saw cutting and joint sealing. "My guys don't say, 'that's not my job,'" Tina elaborates. "If they are operators, they will come off the machine and pick up a shovel. I can't praise the people in my company enough." Her crews usually work four 10-hour days each week.
Stepping stone jobs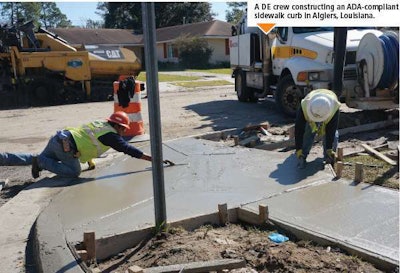 Tina is appreciative of the contractors who gave her a chance to sub for them at the beginning, including Boh Brothers and Gibbs Construction. "They gave us stepping stone jobs and were extremely helpful in their payment structure," she says.
"They're a good example of how a DBE can start up small and then do more and more work," says Darren Grille, an estimator at Barber Bros. Construction. "Tina's a good mentor on how to build a business without taking on more than you can handle."
The company's fleet includes eight backhoes, along with compact excavators, compact track loaders and rollers. DE now has an in-house mechanic, and regularly trains operators by working with their local dealer. "They don't want anyone to have the excuse that they didn't know about something," says Mark McElroy with Louisiana Cat. "And they stay on top of preventive maintenance. There's no duct tape on their jobsites."
A big little company
"I like being a big little company," Tina says. "I would advise contractors just starting out not to grow so fast. The market changes and the competition is crazy. I'd rather use a sub than hire and then have to fire someone."
"They have the ability to grow young talent," McElroy says. "They are small enough to still be personable, but large enough to expand. And because they are such a tight-knit group, they excel at solving problems."
"Tina is an extremely capable construction professional," says Lawrence C. Gibbs, CEO of Gibbs Construction in Harahan, Louisiana. "She has consistently demonstrated a high level of integrity and ability to complete a wide variety of demanding construction projects on time and in budget."
DE has an excellent .78 experience mod rate; a result due in part to adopting a "Thinking + Safety = Zero Accidents" program, headed up by Anthony. "They are going to do it right, no matter what," says Joe O'Conner with their insurance firm, Trimble-Batjer Insurance. "She's doing everything that we as risk managers want; the company is hitting it on all cylinders."
A good life
Tina says, simply: "We've done well, so we want our people to do well. We want them to have a good life." The rewards of this attitude became evident one Christmas when an employee called her just to let her know that he was spending his first Christmas as the proud owner of a home … and as the very first homeowner in his family.
As for her plans for the future, Tina appreciates the steady growth DE has experienced to date. "You have to get good at doing a particular job before you go on," she says. "If you're not good at what's behind you, then it's going to be hard to grow."