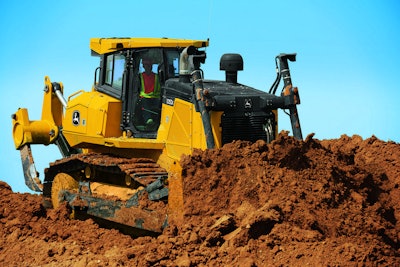 John Deere saw sales decline and a sharp cut in profit for the first quarter, and in response the company has adjusted downward its outlook for the full fiscal year.
Deere reported 1Q sales of $5.5 billion, down 13 percent from the same period last year. Profit fell 40 percent to $254.4 million.
The global farming slowdown that cut the company's profit by 40 percent for fiscal 2015 continues to be the root cause of Deere's declines. More recently the slack farming demand has coupled with lessened demand for construction equipment, mainly from the energy sector due to the steep drop in oil prices.
Agriculture & Turf sales fell 12 percent during the quarter while the division's profit fell 46 percent to $144 million.
Construction & Forestry equipment sales fell 23 percent and profit fell 52 percent to $70 million.
For fiscal year 2016 Deere expects low commodity prices and stagnant farm incomes to continue cutting into its ag sales while weak demand from the energy sector is expected to continue weakening construction equipment sales.
In light of those expectations, Deere now forecasts sales to fall 10 percent. Deere's previous 2016 forecast called for a sales reduction of 7 percent. The company also reduced expectations for 2016 profit, now forecast to be down 33 percent to $1.3 billion from the previous forecast of down 26 percent to $1.4 billion.