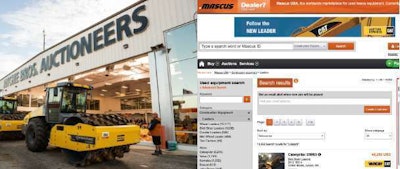 Heavy equipment auctioneer Ritchie Bros. has acquired online equipment listing service Mascus in an all-cash deal.
Ritchie Bros. says it has paid €24.0 million ($26.6 million) for 100 percent equity in Mascus and will pay up to €3.4 million ($3.8 million) more should certain performance targets be met by Mascus over the next three years.
Mascus will continue to operate under its current branding and with its existing management team, Ritchie Bros. announced.
Based in the Netherlands, Mascus was established in 2001 and lists trucks and equipment for sale by equipment dealers, brokers, exporters and manufacturers which pay a subscription for the service. As part of the subscription, Mascus customers also have access to a suite of business tools and software solutions.
"This acquisition is another step in Ritchie Bros.' strategy as the world's leading multi-channel equipment disposition and asset management company as it adds an important new channel," said Ritchie Bros. CEO Ravi Saligram in a statement.
Interestingly, "multi-channel" was the word used by competitor IronPlanet's chairman and CEO Greg Owens shortly after his company announced a partnership with Mascus in early 2014. That deal allowed IronPlanet to mine Mascus' inventory for items to trade.
"There are always losing bidders in every auction, people we know have a direct interest in the item sold," explained Owens in an interview with Equipment World. "Using the Mascus inventory, we can reach out to the second and third bidder and offer them a similar machine."
Mascus.com currently lists more than 360,000 items for sale and garners 3.2 million monthly visits each month from 58 countries.
"As one of the world's leading equipment listing services, Mascus has carved out a well-established and loyal customer base, and has developed strong business tools and solutions that many equipment dealers and brokers now rely on to manage and sell their assets," Saligram said. "Combining Ritchie Bros.' current capabilities with Mascus' solutions will enhance the end-to-end service."