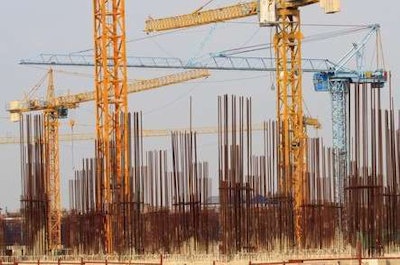 Gains in homebuilding edged out losses in nonresidential spending, propelling total U.S. construction spending to an eight-year high in December.
Total spending rose 0.1 percent during the month to $1.1 trillion, according to preliminary data from the Commerce Department.
The total represents a 10.5-percent jump 2014 total and the largest amount of activity in the industry since 2007, according to a report from the Associated Press.
During December, homebuilding activity rose 0.9 percent to $430 billion, up 8.1 percent over the December 2014 mark. Single-family spending rose 1 percent to $231 billion while apartment spending rose 2.7 percent to $53 billion.
Total nonresidential spending fell 0.4 percent during the month to $681 billion, up 8.3 percent over the year-ago figure.
All but four nonresidential sectors saw losses during the month. The largest percent declines included conservation and development, down 10 percent to $7 billions manufacturing, down 7.2 percent to $79 billion; and public safety, down 4.6 percent to $8 billion.
The four nonresidential gainers included highway and street, up 9.6 percent to $96 billion; communication, up 4 percent to $23 billion; sewage and waste disposal, up 1.3 percent to $24 billion; and amusement and recreation, up 0.5 percent to $20 billion.
Total private spending fell 0.6 percent to $824 billion and is up 10 percent year over year.
Government spending rose 1.9 percent to $293 billion and is up 4 percent year over year.