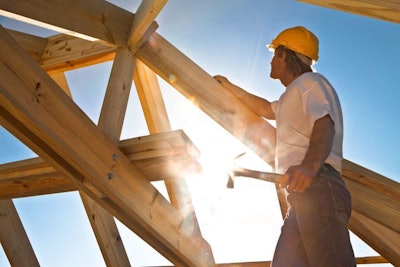 U.S. home starts were down in August with decreases in both single-family and apartment homes.
The start of construction on new homes fell 3 percent during the month to a seasonally adjusted annual rate of 1.126 million, according to preliminary data from the Commerce Department.
The new data also revised the July rate downward, from the previously reported 1.206 million to 1.161 million.
August single-family starts fell 3 percent to 739,000 but remain 16.6 percent above the August 2014 rate. Apartment starts fell 2.3 percent to 381,000 and remain up 24.5 percent over their year-ago figure.
Building permits, a good barometer of how the homebuilding industry is trending, rose during August by 3.5 percent to 1.170 million. Permits are up 12.5 percent above the August 2014 figure.
Despite the slowdown in starts, builder confidence remains on the rise. September's National Association of Home Builders/Wells Fargo builder sentiment index rose one point to a 61. Any reading above a 50 indicates most home builders believe market conditions are good.
In a statement, NAHB chairman Tom Woods and chief economist David Crowe said the organization expects steady, modest growth through the end of the year, with starts finishing at about 1.1 million.
"However, our members continue to tell us that they are concerned about the availability of lots and labor," Woods said.