The construction industry's shortage of skilled workers has only gotten worse in the last year, according to the latest national survey of firms conducted by the Associated General Contractors of America.
Surveying 1,358 contractors, the AGC study found that 86 percent are struggling to fill salaried professional positions and find enough hourly skilled, or craft, workers. That figure is up 3 points from the 83 percent of firms reporting the same problem last year.
The figure has steadily increased since 2013 when the figure was 74 percent.
Those firms struggling only to fill craft positions was at 79 percent in the latest survey, while firms struggling to fill professional positions such as project managers and estimators, was at 52 percent.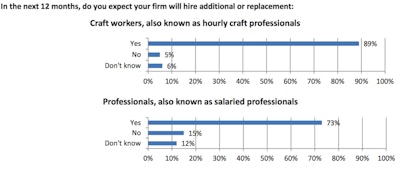 No fewer than 25 percent of firms surveyed reported shortages in all 21 craft positions included in the AGC's study, and shortages were reported in the majority of positions by more than 40 percent. Of the firms surveyed, 89 percent said they planned on hiring craft workers in the next 12 months.
The growing shortage comes at time when construction spending is at its highest point in seven years with much of that growth due to the construction of new single-family homes.
With that in mind, it's comes as little surprise that carpenters are the hardest workers to find, with 73 percent of firms reporting difficulty filling those positions. Next, at 65 percent were sheet metal installers, followed by concrete workers at 63 percent and electricians at 60 percent. You can see the full breakdown of all positions included in the survey below.
When it comes to professional positions, project managers and supervisors are the highest in demand with 55 percent of firms reporting a shortage. Estimators are next at 43 percent, followed by engineers at 34 percent.
And based on the survey answers, competition for the scarce amount of workers available is high. Thirty six percent of firms said they had lost craft workers to other construction firms in their area, while 24 percent said the same of professional positions. Their main method of retention in the face of this competition is increasing base pay, with 56 percent and 48 percent saying they would do so for craft workers and salaried professionals, respectively.
Due to the staffing troubles, 43 percent of responding firms say they have increased their use of subcontractors over the last year, while 33 percent said they have used a staffing company.
And the firms surveyed don't expect things to get much better. Fifty three percent said they believe it will continue to be hard to hire for hourly craft positions in the next 12 months, while 37 percent said the same of professional positions. A quarter of all respondents said they believe it will actually become harder to fill these positions.
Firms have little confidence in the pipeline for new craft workers as well, with half rating their local training and recruiting infrastructure as either below average or poor.
In response to its findings, the AGC continued to beat the drum of improving those local pipelines by calling for new career and technical school programs. "The sad fact is too few students are being exposed to construction careers or provided with the basic skills needed to prepare for such a career path," said Stephen Sandherr, the AGC's CEO, in a statement.