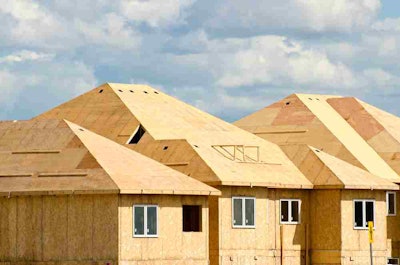 Construction spending in the U.S. reached its highest mark in seven years in July thanks to major increases from single-family homes and manufacturing facilities.
Total spending rose 0.7 percent during the month to $1.083 trillion, a 13.7-percent increase over July 2014 and the highest level since May 2008, according to preliminary data from the Commerce Department.
The report also revised upward the June spending level to $1.075 trillion, pushing upward that month's gains from 0.1 percent to 0.7 percent as well.
Spending on all residential projects increased 1.1 percent to $387 billion, up 15.8 percent year over year. Homebuilder spending rose 1.1 percent to $380 billion, an increase of 15.6 percent year over.
Spending on single-family homes was up 2.1 percent to $218.5 billion, offsetting a 2.2-percent decrease in apartment spending to $52 billion.
Total nonresidential spending rose 0.5 percent to $696 billion and is up 12.7 percent year over year. Factories were the main contributor to the gains with manufacturing spending up 4.8 percent to $94 billion—a 73-percent increase year over year.
Other notable nonresidential gains included conservation and development, up 11.2 percent to $8.5 billion, and religious, up 5.7 percent to $3.5 billion.